100% Tutor Satisfaction Guarantee
At Varsity Tutors, we're committed to connecting you to top tutors capable of delivering an outstanding experience. That's why we provide a 100% tutor satisfaction guarantee.
Private In-Home and Online Physics Tutoring in Pasadena, TX
Receive personally tailored Physics lessons from exceptional tutors in a one-on-one setting. We help you connect with in-home and online tutoring that offers flexible scheduling and your choice of locations.
Session Summaries by Physics Tutors
"We reviewed the student's notes on static fluids. We went over some of her notes that she didn't understand, and talked conceptually about the different ideas, such as pressure, Pascal's law and buoyancy. We discussed some of her homework problems that she didn't understand. We also used my college textbook to look at some derivations and sample problems. The concepts seemed to make more sense as we discussed them, and the student said that she felt better about them. It was a great session!"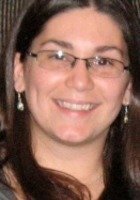 "This session we covered Physics- Waves. The main thing that we did was break down the different equations and show why each element/ number/ variable is in that equation (for example, the pendulum equation has a 2*pi because a pendulum traces a circle of radius L) and show the different ways in which the different elements affect one another (for example, increasing frequency decreases wavelength because they are inversely proportional in the equation lambda=v/f)."
"The student just began a new chapter in her physics class that focuses on the topic of periodic motion, which is based on sine and cosine graphs. Once we discussed the overall topics involved, including the graphs, the concepts of periodic motion, and unit of radians, she began to feel more comfortable. We did a few problems she was given in class, and this also helped improve her understanding of the material. Once she wrote out the equations, she was able to do complete the problems with ease. We ended the session by discussing pendulum motion and springs and the common trip-ups students have when working with these topics. She understood the material very well, and we will meet twice next weekend to continue preparing for her test. I will bring extra material for her to work on. "