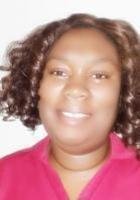 Natasha
Certified Tutor
I have always been enthusiastic about a few things in education, language development, teaching adults and early childhood education. As a native English speaker, I felt propelled to explore my language to assist people of all ages to read, write, comprehend and speak the English language. My second goal is to connect with adult who are not literate, to deliver to them the key that will unlock the secrets of life. For these reasons, I did my first degree to become an English Teacher/ Literacy Specialist. Thirdly, my Associate Degree in Early Childhood Education has equipped me for many years of effectively teaching early childhood students all the core subjects. My Master of Education Degree has reinforced my capability as a tutor to deal with more intricate cases like learning disabilities among others.
I was intrigued about books from age two, later on I read books by Edith Blyton, Hardy Boys along with comics. Reading has helped me to develop and learn quickly. Then came the reading and writing connection, because of my imagination while reading, I developed a knock for writing and was always praised by my teachers for writing the best short stories and essays. That fuelled my strength as an English Teacher, my students can see my passion and have also developed the love of language themselves. As I interacted with my students during my 17 years teaching profession, I begun writing children concept literature in various subject areas, presently at the publisher.
I have found that every student can learn, maybe on the same day and certainly not in the same way. Therefore, I like to custom made my approach to fit my student's interest and use their learning style to create a learning environment that is conducive to them. Being a standardize test marker for many years, I have a great understanding of how to prepare students for standardize exams. I like to use animation, music, poetry, chants, games and whatever can make learning fun for each student. I find the blended learning approach to be effective as well with most students; this means using computer software for learning since most students are computer literate. Another important feature to get my students going is to make classroom learning relevant to the world in which we live, so that students never have to ask, 'why do I have to learn..?'
Teaching English as a second language to adults or placing the skill of basic reading and writing in their hand, is rewarding to me. Just to experience someone's life take on a new prospective because they are better armed to face life is like making life better one person at a time. My secret is to first tackle the fears in some adults as it relates to re-entering the classroom. Usually, when this anxiety is removed, adults become hungry for knowledge and are very grateful to be back in the race.
Creating unique ways of working also with younger students, even as young as age two is another skill of mine. Play is important to these students because it is developmentally appropriate for them. The use of puppets, props, games and role playing are all used to engage these young ones. I have taught English to very young student from non English speaking countries such as China, India, Israel, Dubai and Spanish Speaking countries. My findings are, these students are brave and have little hang up in learning a new language and they rarely care about making mistakes.
It has been a rewarding 17 years experience teaching English, whether basic literacy, ESL or preparing for an exam. I will continue to work tirelessly with my students, for their victory is certainly mine as well.

Education & Certification
Undergraduate Degree: University of the West Indies - Bachelor of Education, Adult Literacy Instructor
Graduate Degree: University of South Wales - Masters in Education, Education
Hobbies
Teaching, reading, travelling and singing
Tutoring Subjects
ACCUPLACER ESL - Reading Skills
ACCUPLACER ESL - Sentence Meaning
ACCUPLACER Language Use
Adult ESL/ELL
Adult Literacy
Art
C#
CLEP Prep
CLEP College Composition
College English
Elementary School
Elementary School English
Elementary School Math
Elementary School Reading
Elementary School Science
Elementary School Writing
Handwriting
High School English
IB Computer Science
Microsoft Office
Middle School Reading
Middle School Reading Comprehension
Middle School Writing
Other
PARCC Prep
PRAXIS
PRAXIS Early Childhood
PRAXIS Elementary School
PRAXIS Reading
PRAXIS Writing
Professional Certifications
Study Skills
Study Skills and Organization
Technology and Coding