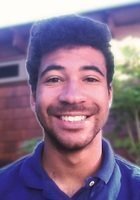 Zealand
Certified Tutor
I am a student at Eastern Washington University. I have been playing guitar for 6 years. I've been in various kinds of bands and been in multiple performance environments. I have written/recorded/released two records. My favorite kind of student is the absolute beginner. There's nothing better than helping someone discover the joys of music!
Hobbies
Guitar, Drums, Record Production, Rugby, Video Games
What is your teaching philosophy?
In a first session, I would first see what the student knows, probably by asking them to play a song for me. And for the absolute beginner, we'll just start from square one!