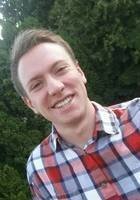 Austin
Certified Tutor
My name is Austin Maul, and I am the Outstanding Graduating Economics major of Arizona State University! I am a CRLA certified tutor and have been happily helping my peers achieve their academic goals since my second semester my freshman year of college when I became a TA (the only undergraduate TA in the Department of Economics, might I add) for ASU's Principles of micro- and macroeconomics courses. My approach to economics is far from the typical approach of professors to assign book reading and give boring lectures. Instead, I like to engage with my students in relevant and intriguing conversations that facilitate learning in a productive and FUN fashion! Economics is an extremely interesting and fun subject if taught correctly, and it is ESSENTIAL not only to your continued studies in academia, but also in the REAL WORLD! This is why I strive to provide the most entertaining, and in turn, the most productive learning experience possible. My methods have been proven over three years of being a student tutor, and I hope that I can continue this fulfilling job as much as possible beyond receiving my degree! I received a 4.0 GPA (or higher if you count A+'s) in college in the prestigious W.P. Carey School of Business, so I am very well versed in other business subjects in addition to Economics. I am also going to be attending law school starting in the Fall of 2017 and thus am a prolific writer, speaker, and logical thinker. I also have experience helping others in these areas, though not on the scale of my experience with economics and other business subjects. I am always happy to help in whatever way I can and cater to my students' specific needs.

Beyond being a tutor, I personally believe I am one of the most interesting 22 year olds in the world. I am a huge Boston sports fan, and have seen in person the Red Sox win the World Series in 2013, the Bruins lose the Stanley Cup Final in 2013, and the Patriots win Super Bowl XLIX in 2015. In fact, I am probably the most famous person you know! I was a palm tree for Katy Perry in the Super bowl XLIX halftime show, and am personal friends with the famous "Left Shark!" I played tuba in the marching band from middle school and through college, am a student pilot (yes, for airplanes), and have been to nearly all 50 states, Canada, Mexico, and CHINA!

I am a thrill and experience seeker who is committed to helping others also live their lives to the fullest. Tutoring best allows me to utilize my talents and abilities to teach this goal, which is why I love it so much. I hope to get to help as many students as possible succeed as a Varsity Tutor!
Hobbies
Sports and attending sporting events, flying airplanes, music, playing tuba, concerts, traveling the world, adventuring and thrill-seeking, meeting new people, learning, FOOD
Tutoring Subjects
Business
College Accounting
College Economics
Econometrics
Elementary School Math
High School Economics
High School English
Macroeconomics
Middle School Writing
Tuba
What is your teaching philosophy?
My teaching philosophy is not a "one size fits all" approach. Indeed, it is to be as fluid as possible to provide my students with exactly what they need. I prefer to get to know my students on a personal level and incorporate their interests into our conversations and lectures about course material. This, in my opinion, facilities the most effective and efficient learning. I often ask for feedback and for my students to teach me, as this demonstrates that full learning and understanding is taking place. It is my job to provide the highest caliber service to my students, and I solicit their feedback and preferences to plan and execute my approach accordingly.
What might you do in a typical first session with a student?
Get to know them on a personal level. Who are they? What is their background? What do they study? What are their academic goals? What do they feel they need from me to achieve these goals? What problems are they currently facing? What type of learner are they (i.e. visual, audible, etc.)? I also find out exactly where they are in terms of understanding the material. Often, course material builds off of previous material, so if I receive a student in the middle of a course, I will ensure that they have a solid understanding of the foundation material before moving onto more complex problems that build off of the foundation material. I find one of the most common tutoring pitfalls to be focusing on the difficult concepts when the student does not understand the fundamentals fully and thus they are complicated more. So in a first session, I like to ensure that they have a firm understanding of the basics before tackling more difficult tasks. Knowing the student and their personality makes this task much easier.
How can you help a student become an independent learner?
By avoiding "spoon feeding" them answers. I like to provide them with everything that they need to solve a problem, have them attempt it on their own, and ask me questions only as completely necessary along the way. I also like to take a conversational approach to learning in private tutoring sessions, whereby the same process is followed: The student tells me what they know about the subject, I help them when they get stuck, and they ask me follow-up questions to further their understanding. This helps them become independent learners in two ways: 1. They rely less on me as the tutor because they know not to expect the answers just given to them, and 2. It makes the content more interesting and relevant to them, which in turn facilitates them wanting to learn more about it on their own.
If a student has difficulty learning a skill or concept, what would you do?
If a student has difficulty learning a concept, I first identify the root of the problem. Are they struggling with the math? Are they missing an integrated concept? Are they missing the definition of a key term? Once the problem is identified, I try to express it to them as simply as possible and in layman's terms. I especially like to exaggerate and come up with ridiculous examples. They may sound crazy, but this is a proven memory technique that will ensure that the student will not only remember it in the immediate future but also in the long-term (and on test day!) Complex subjects can often be expressed very simply. It is my job as a tutor to do this for students that are struggling.
What strategies have you found to be most successful when you start to work with a student?
I have found that getting to know a student and their personality/interests, as well as allowing them to get to know me on a personal level, immediately pays dividends. It is much easier to work with someone who you know and are comfortable having a conversation with. Students that seek tutoring are often struggling and are intimidated by their course work and those that provide it to them. Easing that stress right off the bat allows them to focus more and have a more comfortable and effective learning experience, because they will be more likely to ask questions (which is KEY!), provide their own insight, and be motivated to study following tutoring.
What techniques would you use to be sure that a student understands the material?
The Socratic Method is very effective but requires a good relationship between the tutor and student. I constantly ask in-depth questions and ask for the student to explain to me IN THEIR OWN WORDS the material to ensure they understand it. If students can explain the material correctly in their own terms, they are extremely likely to retain the information and be able to recall it effectively and efficiently.
How do you evaluate a student's needs?
Through talking with them, asking them what they do not understand, and having them explain what they do understand. Their explanations allow me to find deficiencies in their understanding and provide them with what they need to fill those gaps.
What types of materials do you typically use during a tutoring session?
I love the use of whiteboards (or a screen sharing whiteboard program) which allows me to utilize different colors, especially when dealing with graphs in Economics. Color makes things significantly easier to see and thus understand.
How do you build a student's confidence in a subject?
I start by having them solve problems/explain the simple topics that they know, and then working up from there and giving them small hints as needed to progress along the way. This builds their initial confidence, and by gradually working up, not only do they feel more confident in their abilities by successfully moving up another step, but they also understand the material better in the process. Being able to do even the most simple process correctly gives the student a sense of accomplishment that will increase their confidence going forward.
How would you help a student stay motivated?
I am a firm believer in the "work hard-play hard" mentality. I like to keep an optimistic outlook and remind students, for example, "after buckling down for these next few days, you will walk out of your exam knowing you passed and will be able to celebrate with a clear conscience over the weekend!" It is easy for school to consume students' lives and for them to lose sight of other aspects of life. I feel that reminding students that good times are ahead, and those good times will be even better if they know they are doing well in school, goes a very long way. For regular students, I may even suggest they take a day or two off to have some fun and come back with a clean conscience, as it is very easy to become overwhelmed, which is a slippery slope for under-performing and thus losing motivation.
How do you help students who are struggling with reading comprehension?
The key to reading comprehension is engaging with the material. Asking questions and simplifying complex prose is the key!