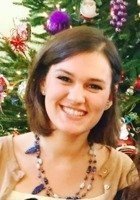 Julia
Certified Tutor
After graduating with a degree in philosophy, my conscience left me with no choice but to find a job doing something meaningful. Like Aristotle, I think the ability to think for yourself is essential to living a happy life. Like Socrates, I think inquiry is essential to cultivating this ability. I love people and I love conversation. To engage personally while exchanging and inspiring ideas is, for me, one of life's greatest pleasures.
Test Scores
SAT Composite (1600 scale): 1470
SAT Math: 730
SAT Verbal: 710
Hobbies
Comedy, gardening, sustainable agriculture, poetry
Tutoring Subjects
American Literature
Business
College Biology
College Economics
College English
College Level American Literature
Ecology
High School Biology
High School Business
High School Chemistry
High School Economics
High School English
High School Level American Literature
High School Writing
Philosophical Ethics
Social Sciences
What is your teaching philosophy?
I strive to engage my students as much as possible by asking questions, while providing them with the background, support, and confidence required to learn. Before I start tutoring, I spend time reviewing the concepts until I have a renewed, thorough understanding and appreciation of the topic.
What might you do in a typical first session with a student?
Ask questions and do practice exercises to feel out exactly where he or she is having trouble. Then, explain the concept and work on examples together. I'd also foster a sense of support and encouragement.
How can you help a student become an independent learner?
Learning how to learn takes confidence and practice. In teaching a concept, I make sure to ask my student how they know what to do and why. This develops critical thinking skills, which he or she will apply when they encounter new concepts.
How would you help a student stay motivated?
Relate it to something he or she already understands. There is always a baseline to build off of. I try to break down concepts to be as small and easily digestible as practical.
How do you help students who are struggling with reading comprehension?
I would start with readings they are naturally more interested in, talk about what to look for in them, read and underline with them, and talk about what we learned. Underlining, discussing questions before and after, and just practice are all effective strategies.