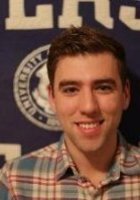 David
Certified Tutor
My varying interests in the field of kinesiology have driven my experience in academia as a student, a teacher, and a research investigator. In addition to required courses, I chose electives in sports psychology, statistics, endocrinology, and strength and conditioning. As a graduate assistant, I've had the opportunity to teach labs in anatomy, exercise testing and prescription for healthy and clinical populations, strength and conditioning, and exercise physiology. I am proficient in the use of common laboratory testing devices such as the metabolic cart, force plate, lactate analysis, and EKG. As a research investigator, I have had the opportunity to work on projects relating to cardiology, sports psychology, and human performance under the tutelage of Dr. Darren T. Beck and Dr. Disa L. Hafield. I became proficient in the use of Finapres technology to measure stroke volume, heart rate, and blood pressure as a member of Dr. Beck's research team. We studied the effect NormaTec compression boots have on acute cardiovascular changes, due to the restriction of blood flow to the legs. NormaTec boots are of interest to exercise physiologists because of their potential to decrease recovery time and enhance performance. Under the mentorship of Dr. Hatfield, I investigated the relationship between sleep, burnout, and performance in collegiate female runners. I saw this as an opportunity to investigate the psychological contributions to performance. The results of this analysis were presented at the New England ACSM as part of the graduate student award competition. Under Dr. Hatfield, my master's thesis is a joint study with the University of Rhode Island's nutrition department in the use of caffeine as an ergogenic aide for recreationally weight-trained males. Specifically, the effect of caffeine on power production assessed via force plate and Tendo-Unit.
Hobbies
Hockey, Exercise, Music
Tutoring Subjects
Other
Study Skills
Study Skills and Organization
What is your teaching philosophy?
Helping students find answers to their own questions.
What might you do in a typical first session with a student?
Ask the student what their interests in the topic are, i.e., find out their strengths and weaknesses.
How can you help a student become an independent learner?
Show them where they can find the answers to their own questions.
If a student has difficulty learning a skill or concept, what would you do?
Try to simplify it by using relatable examples.
What techniques would you use to be sure that a student understands the material?
Have them answer leading questions or short quizzes.
How do you build a student's confidence in a subject?
Test them on topics we covered.