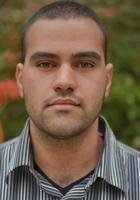 Ray
Certified Tutor
I am currently a junior attending Rutgers University Business School. As part of the Honors College at Rutgers, my courses are generally higher levels than standard courses. I am working towards my Bachelor's degree in Marketing. Through work experience writing for the sporting website TheSportsQuotient, my writing skills are sharp and it is a subject that I enjoy teaching. I am in the process of writing my own series of short stories as part of my Senior Thesis. Through an official non-profit that I was a part of starting, I have experience tutoring and mentoring children in Newark, New Jersey. Through the non-profit, we met with students twice a week after school to help them with their school work as well as to teach them other life skills. As an assistant supervisor for North Brunswick Township Department of Parks and Recreational Services, I have worked with children ages 5-16 for five years now through after school programs and summer camp. Through my knowledge of a multitude of subjects, including Writing, Reading, History, Public Speaking, and others, I am confident in my abilities to help students excel. I also have knowledge in AP Testing as I have taken a variety of AP tests when I was in high school, including AP US History, AP Composition, and AP Literature.

Outside of these academic environments, I enjoy watching and playing all sports, reading, and listening to music. My favorite sports to watch are football and basketball.
Hobbies
Sports of any kind, fishing, reading, writing, tv, camping, hunting, video games.
Tutoring Subjects
AP US History
College English
Comparative Literature
High School English