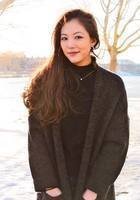 Erica
Certified Tutor
My name is Erica and I am a recent graduate of Harvard College, graduating with a degree of High Honors in the History of Science. I am also anticipating entering dental school this coming Fall at Columbia College of Dental Medicine. In this interim year, I would love the opportunity to continue tutoring -- I have tutored all throughout college in a multitude of subjects, and this rewarding experience has not only helped the students, but has also allowed me the chance to myself better learn how to communicate with students of all ages and backgrounds.

While I did graduate with a degree in history, I am also very comfortable tutoring Biology, Chemistry, and Physics, as I have taken all these courses at Harvard as pre-requsities for Dental School. I have also taken the SAT, DAT, MCAT, and GRE, and am more than willing to help tutor anyone preparing for these exams -- as someone who has taken them not too long ago, I myself remember the stress that comes with standardized testing, and would love the chance to help find with you the best way possible to guide your way through it.

I am very excited to be a part of your team, and I hope to meet you soon!
Education & Certification
Undergraduate Degree: Harvard College - Bachelor in Arts, History and Philosophy of Science and Technology
Graduate Degree: Columbia College of Dental Medicine - Current Grad Student, Predentistry
Test Scores
SAT Math: 800
SAT Verbal: 740
SAT Writing: 800
Hobbies
Music, Figure Skating, Hockey, Dance, Reading, Hiking, Exploring new places, Eating new foods
Tutoring Subjects
Bass Clarinet
Clarinet
College Application Essays
College Biology
College Chemistry
College Physics
DAT Survey of the Natural Sciences
High School Chemistry
High School Physics
High School Writing
Life Sciences
Music
Music Theory
Other
SAT Verbal
Thermodynamics