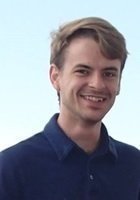 Neal
Certified Tutor
I love math so much that it has become a lifestyle. I used to read Harry Potter and think "If only magic were real, I'd study so hard that I'd be the best wizard ever!" (pardon my tastes if you're not into fantasy)

Well magic is real. Magic is the underlying mechanism of reality: how the world works, and math is the language it's written in.

I've heard things like "math is cold and calculating," but I would argue that math is closer to English and the arts than it is to the sciences. Math is about curiosity, creativity, and intuition; you're writing spells to solve the problems of the world.

Any calculator can do arithmetic, but if I can show you why the math exists in the first place, and how to invent it yourself, then and only then have I done my job.
Hobbies
I actually read textbooks for fun, but besides that I love card games, dancing, and working with my hands in the shop. I also mess around on a few musical instruments.