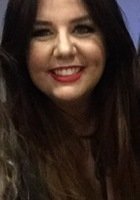 Rebekah
Certified Tutor
I am currently a senior level undergraduate at the University of Central Oklahoma. Lover of all things History. Future goals is to get my PhD in History and become a professor at a university level.

Committed to excellence in all aspects of life. Likes a great story. Looks for opportunities to laugh. Strictly inclusive of everyone.
Hobbies
Shopping, British History, Movies, Musicals
Tutoring Subjects
American Literature
College English
College Geography
College Level American History
College Level American Literature
College World History
High School English
High School Geography
High School Level American History
High School Level American Literature
High School World History
High School Writing
What is your teaching philosophy?
Everyone deserves an equal opportunity to higher education. I also help students realize their passions about their future.
What might you do in a typical first session with a student?
Spend time getting to know the student personally, and getting feedback on what the student knows of the subject on the basic level.
How can you help a student become an independent learner?
Using critical-thinking skills and asking the correct questions to help the students think on their own.