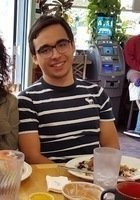 Diego
Certified Tutor
Hi!
I am an engineering student at Northeastern University who loves helping people out with all subjects. Standardized tests are just a game against the clock that we can improve in so many ways.
Education & Certification
Undergraduate Degree: Northeastern University - Current Undergrad, Industrial Engineering
Test Scores
ACT Composite: 32
ACT English: 32
ACT Math: 31
ACT Reading: 32
ACT Science: 32
Hobbies
Cycling, Sailing, Politics, Stock Trading
Tutoring Subjects
AP Spanish Literature and Culture
C++
Chemical and Biomolecular Engineering
College Application Essays
College English
Conversational Spanish
CSS
Elementary School Math
High School English
High School Physics
HTML
MATLAB
Middle School Science
Other
PHP
SAT Subject Test in Mathematics Level 1
SAT Subject Test in Spanish with Listening
SAT Subject Tests Prep
SQL
Technology and Coding
What is your teaching philosophy?
I have two philosophies. 1. Practice makes perfect. 2. There's an angle to everything. I think there is always more than one way to approach a problem, and typically the test tries to make you think you need to take the harder approach.
What might you do in a typical first session with a student?
First is definitely to talk to the student about what he has covered and what he needs help with, and then follow up with an assessment test or quiz. Once we know where we are with the subject, we can then structure a plan and the following sessions.
How can you help a student become an independent learner?
Creating a study system helps the student get the most out of the time he spends studying. Once I can help him find his best studying style, it definitely becomes easier for him to learn and retain information, and for me to help him.
How would you help a student stay motivated?
When it comes to solving some math problems, the process can be boring and long. We can mix it up with different types of problems like real world scenarios for example.
What strategies have you found to be most successful when you start to work with a student?
Getting to know the strengths and weaknesses of a student helps me adjust the way I teach. So definitely getting to know the student is extremely important.