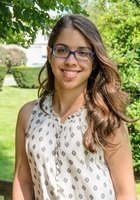 Alicia
Certified Tutor
I am a native Spanish speaker with 4+ years of tutoring experience. Since my freshman year of college, I tutored peers from all grade levels who struggled with the acquisition of Spanish as a second language and help them become proficient in their communication in a foreign language. I held various positions within Bryn Mawr College's tutoring program that allowed me to envision the tutoring experience from various points of view. As the Departmental Liaison Chair, I provided more resources for tutors, fostered a positive relationship with the professors whose subjects we tutored, met their needs, and shared input from professors with the Academic Support and Learning Specialist. As Head Tutor for languages, I hired tutors, coordinated their schedules, and mediated conflicts.

As a bilingual tutor, I am very patient and empathetic when teaching a new language. I have a growth mindset. Instead of saying to myself I'm not good at something, I ask myself what am I missing. If something is hard, I tell myself it will take time and effort. These principles help me improve as a tutor and guide students to take success into their own hands. I use all the resources I have available and do everything I can to find new ones to develop effective tutoring and study strategies.

I scored high on this SAT Spanish Subject Test and have great understanding of the College Board's multiple-choice question. I earned a high score (5) on the AP Spanish Literature exam. My critical thinking skills and mastery of the Spanish language helped me structure my responses on the essay portion of the exam. I also understand the College Board's multiple-choice question.


Education & Certification
Undergraduate Degree: Bryn Mawr College - Bachelors, English and Creative Writing
Test Scores
SAT Composite (1600 scale): 1060
AP Spanish Literature: 5
SAT Subject Test in Spanish: 790
Hobbies
Reading and going to the theater
Tutoring Subjects
College English
Comparative Literature
Conversational Spanish
High School English
Other
SAT Subject Tests Prep
Spanish 1
Study Skills
Study Skills and Organization
Summer