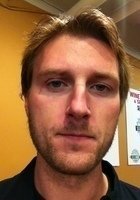 Johnathan
Certified Tutor
It is my goal to assist anyone and everyone with their goal of educating themselves. Concerning math, believe it or not there was a time when math and I were not necessarily friends. It wasn't until college that I gave math an honest try and that was when it started to click. Once I actually sat down with the real intent to learn rather than memorize the material, I was able to begin learning and from there I just wanted to see how far math can go. Once I reached Complex Analysis, I decided I had gone far enough lol. But the point is, if I can do it, anyone can do it and I am here to help you see it through.

- Johnathan Clark
Hobbies
I am a multi-instrumentalist and outdoor enthusiast. In addition, I enjoy reading and watching Top Gear when I have time!
Tutoring Subjects
Astrophysics
Elementary School Math
Guitar
What is your teaching philosophy?
My goal is to provide the best possible education to those in need. I feel a good education is rooted in one's ability to relate the information to the experience of the student. Learning begins with an interest in the subject, and I aim to establish that interest early on with a student to ensure the best path possible towards an understanding of the material.
What might you do in a typical first session with a student?
For a first session, I would like to begin building a working teacher-to-student relationship. I would like a relationship that is built upon trust and respect from both parties. In addition, I would assess all I could of the student and their academic mindset. For example, I would inquire as to how they feel they are doing regarding the material and reference that with their grades. From there, I would try to find out more about the student's life as it pertains to the subject, with the goal in mind of establishing an unnoticed link between the material and their everyday experience. By the end of the first session, I would like to have established a functioning partnership between the student and I so that we may collectively work towards building the student's understanding of the material at hand.
How can you help a student become an independent learner?
Becoming an independent learner is something anyone can do provided they have the proper motivation and drive to see projects through. I would reassure the student of how nothing in life is given, and they have to want it to actually succeed. I would drive home the fact that while teamwork is a wonderful thing, it only works provided each member has the desire to understand the material on their own first.
How would you help a student stay motivated?
Continued motivation really works when a student has the desire within them to see a subject through. I would use every opportunity available to me throughout our time together to ensure they realize they carry that desire as well. Everyone wants to succeed in life, but not everyone will work for their success. I would do my best to instill a constructive level of integrity within them that can be used to see their subject through.
If a student has difficulty learning a skill or concept, what would you do?
Obstacles will arise from time to time that appear more difficult than others, and this is normal. Provided a student has a strong base understanding of the material, then re-introduction of the newer material from a different angle, such as one more relevant to their experience, should help to resolve the student's difficulty obtaining their understanding.
How do you help students who are struggling with reading comprehension?
I would remind them that no one is perfect, and we all struggle from time to time with the same issue of reading comprehension that they are experiencing now. It is important that the student keep their spirits up and see it through, and with the proper motivation that is entirely possible.
What strategies have you found to be most successful when you start to work with a student?
I've noticed a positive trend by just simply speaking with the student and establishing a working relationship from the onset of tutoring. Once we both feel comfortable speaking with each other the learning can begin.
How would you help a student get excited/engaged with a subject that they are struggling in?
I would ask them of the success they feel concerning a different subject with which they are excelling. I would then remind them that they can feel that same sense of accomplishment and elation with this particular subject once we realize their potential. In a sense, we would work towards that "ah-ha" moment when the material just seems to click.
What techniques would you use to be sure that a student understands the material?
I typically focus in on the work that is giving them the most trouble. The student and I work through the material and come to a solution, then I change a little bit of the information to where the process remains the same but the solution is different. Working through the material again then shows me the areas where the student is struggling or if it is really understood. In addition I will ask concept questions regarding the material-- questions that don't necessarily reflect any problem in particular but are indicative of a basic understanding.
How do you build a student's confidence in a subject?
A student's confidence can be built by comparing the material in question to another subject already well understood by the student. After comparing the circumstances of the two (or more if necessary), and inquiring as to what enabled the student to understand one subject so well, I would then establish unseen links between how they approach learning each subject so that they can reach full potentiation.
How do you evaluate a student's needs?
Conversation and observation enable an understanding of what the student's needs are academically. Those needs will be addressed in accordance with their level of difficulty.
How do you adapt your tutoring to the student's needs?
My tutoring is tailored to each student specifically, but for the most part the fundamentals of learning remain the same. Where differences may occur are where the student's strong points are with regard to their learning process.
What types of materials do you typically use during a tutoring session?
There are a plethora of materials at hand to facilitate the learning experience. However, for the most part, old reliable paper and pencil do the trick! That being said, the interactive browser option has a lot to offer when it comes to additional educational tools.