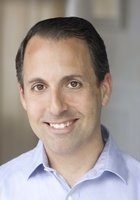 Sean
Certified Tutor
I believe in empowering YOU! As a Summa Cum Laude graduate of Moravian College in 1998, and a long time entrepreneur, teacher, singer, actor and performer, I bring a strong academic background and over 14 years of teaching, business and performing arts experience. I understand what it takes to succeed in school and in life. My teaching style is grounded in a strong belief in personal development and setting high standards for ourselves. As a performer and business owner, I have learned tremendous discipline and methods to achieving success. I get so excited to pass this wisdom onto my students and clients.

I tutor all forms of writing from elementary to college, and as a business owner and marketer for 10 years, I specialize in helping my students craft a compelling essay that is not only academically sound but engaging and persuasive when needed. I also tutor elementary math, science, reading, writing, and test prep. I pride myself on being well rounded and a strong communicator. I am passionate about empowering my students with these skills.

When I'm not tutoring or teaching, you will find me acting on stage or musically directing a choir. I specialize in musical theater acting and have performed all over the country including Carnegie Hall.

I am a big sports fan too, and every once in a while, I might just glue myself to the couch to watch my favorite team play (or at least put it on DVR if I'm working).

I am a marathon runner, indoor soccer player, dancer, and a whole lot of other things that I am trying every day. One of the things I love about living in New York City is that if I choose to, I can experience a new activity or hobby every single day.

I love tutoring, teaching, and coaching because I believe the secret to happy living is giving. I get so excited watching "light bulbs" go off when I work with my students, and it just inspires me to continue my own learning and development.

I promise to give you direct yet caring feedback, and my goal is to get you to the result you're looking for as quickly as possible and to bring you to a level of understanding that's so strong, you could teach it to someone else.

I don't do the work for you; I empower YOU. Nothing is more energizing than feeling like you're growing, and I want you to experience that joy.
Hobbies
acting, singing, dancing, running marathons, NFL Football, MLB Baseball, Travel, Cooking, Reading
Tutoring Subjects
10th Grade Reading
10th Grade Writing
11th Grade Reading
11th Grade Writing
12th Grade Reading
12th Grade Writing
3rd Grade Math
4th Grade
4th Grade Math
5th Grade
5th Grade Math
6th Grade
6th Grade Math
7th Grade
7th Grade Math
8th Grade
8th Grade Math
8th Grade Reading
8th Grade Writing
9th Grade Reading
9th Grade Writing
Adult Literacy
AP Music Theory
College English
Elementary School
Elementary School Math
High School English
High School Writing
Middle School Reading
Middle School Writing
Music
Music Theory
Other
Singing
Study Skills
Study Skills and Organization
Summer