Physical Chemistry Tutoring
Private In-Home and Online Physical Chemistry Tutoring in Charlotte, NC
Receive personally tailored Physical Chemistry lessons from exceptional tutors in a one-on-one setting. We help you connect with in-home and online tutoring that offers flexible scheduling and your choice of locations.
100% Tutor Satisfaction Guarantee
At Varsity Tutors, we're committed to connecting you to top tutors capable of delivering an outstanding experience. That's why we provide a 100% tutor satisfaction guarantee.
How can a Physical Chemistry tutor help you?
If you're considering a career in biotechnology, environmental chemistry, or even consulting or education, physical chemistry is a course you are likely to encounter. This field also applies in the oil and petroleum, textile, food, and medical industries. Since it looks at how matter behaves, on an atomic or molecular level, the subject delves into things you may not necessarily see with the naked eye. Some topics may therefore be difficult to fully understand if not given enough attention. A personal instructor may spend the time needed on these, expanding on what you do grasp in class. The educational directors at Varsity Tutors are happy to help you find an independent, professional physical chemistry tutor in Charlotte, NC.

Your tutor may, for example, explain the intricacies of thermodynamics and how heat is exchanged between a particular system and the environment around it. If calculating atomic mass has you stumped, they may focus on this and other areas you need to strengthen. Your tutor has been through the course before, so they may explain everything about atomic theory, how catalysts work, and the dynamics of acid/base reactions. Don't leave yourself guessing about Helmholtz energy; your tutor may explain how it is derived from internal energy and entropy, and go over the equation used to express it.
Private 1-on-1 Tutoring by top UNC/Duke Grads. We serve Charlotte and all suburbs.
Session Summaries by Physical Chemistry Tutors
"We held a final review session before the student's midterm examination tomorrow. We focused on content from the beginning of the semester, before I began working with her. Specifically, we worked on dimensional analysis (converting between units), and calculation of heat gained/ lost through specific heat. She picks up content extremely quickly, but needs more practice. She had a few misunderstandings about dimensional analysis, specifically how to place each conversion factor, which caused her to miss questions about specific heat. We worked this out until she understood where she was going wrong, and she was able to correct herself. This is our last meeting until after the new year. "
"We discussed how to reorganize the ideas presented in the paper, how to present it in standard research paper format and how to understand the statistical data presented in it. The student told me that she will send me other literature related to the article."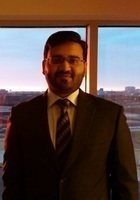 "We used the first session as a time to get to know each other and as a way for me to understand the student's relationship with learning and the test. Among other things, we went over a calendar leading up to his test, agreed on a homework plan, and he took a practice test. While he took the practice test, I took notes about things and strategies he did well and things we should work on. He mentioned he struggles with confidence and hasn't seen the material in a year. He seems excited to work on this so he can finally get his diploma and move on. To end the session, we discussed how to actively study notes and how the sessions and homework will be from here on out. I feel good about the session and I'm excited to help him prepare for such an important assessment."