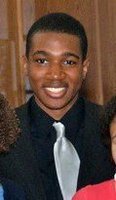 Ade
Certified Tutor
As someone who has experienced the dynamics of both the undergraduate and medical school admissions process, I feel that strong preparation for entrance examinations greatly increases one's chances of personal and academic success---which is why I am so very interested in working with you through Varsity Tutors!

I currently have a Bachelor of Science degree in Biology and a Bachelor of Arts degree in African Studies from Yale University. I deferred admission to gain relevant work experience before starting medical school at the University of Pennsylvania School of Medicine as an MD/MPH candidate student. My experience in the biological sciences includes extensive biology research in the fields of behavioral neuroscience and infectious disease. I successfully completed all required courses for admission into medical school during the course of my undergraduate education, and I have extensive Math, Science, and Verbal Reasoning tutoring experience working with high school students in the New Haven Public School system. While working in local public high schools, I have successfully tutored students both for their own personal gain and for increased performance on college entrance examinations--such as the SAT and ACT.

My personal strengths include the ability to work productively in a fast-paced work environment, along with numerous experiences in tutoring, lesson/report preparation, and data analysis. Past positions in biomedical research and administration have also necessitated excellent verbal and oral communication skills, specifically within team settings. In addition, because I have interacted with many types of students for the past several years through tutoring/mentorship, my teaching styles are versatile and adaptable to each and every student.

I am truly dedicated to helping my students reach their goals and thus invest much of my time and energy into ensuring my students' academic and personal success. I truly believe that anyone can succeed if given the proper steps!

Although I love math and science, in my spare time I love to play sports competitively. I played club basketball throughout college and was heavily involved in my schools intramural sports program. I also love R&B music and jamming with friends in my spare time.
Education & Certification
Undergraduate Degree: Yale University - Bachelors, Biology, African Studies
Graduate Degree: University of Pennsylvania School of Medicine - Doctor of Medicine, Medicine
Test Scores
ACT Composite: 34
ACT English: 33
ACT Math: 36
ACT Reading: 35
ACT Science: 34
SAT Composite (1600 scale): 1510
SAT Math: 750
SAT Writing: 740
MCAT: 39
SAT Mathematics Level 2: 790
SAT Biology M: 770
SAT Chemistry: 790
Hobbies
Basketball, Music (Vocal+Violin), Biomedical Research, Watching sports games with buddies, non-profit/health advocacy work
Tutoring Subjects
Anatomy & Physiology
College Biology
College Chemistry
College Physics
High School Biology
High School Chemistry
High School Physics
MCAT Psychological, Social, and Biological Foundations of Behavior