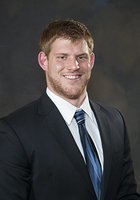 Blake
Certified Tutor
I am a future medical student and recent engineering graduate, and I look forward to working with students in math and science.
Hobbies
Travel, Scuba Diving
Tutoring Subjects
MCAT Biological and Biochemical Foundations of Living Systems
MCAT Chemical and Physical Foundations of Biological Systems
College Chemistry
MCAT Critical Analysis and Reasoning Skills
Mechanical Engineering
MCAT Psychological, Social, and Biological Foundations of Behavior
What might you do in a typical first session with a student?
During a first session, I would talk with the student about their academic goals, and also discuss learning strategies that have worked well for them in the past.
What is your teaching philosophy?
I like to focus on big picture objectives. I believe it is more important to understand the foundations of a process and the overarching idea, rather than trying to memorize a list of equations or terms.