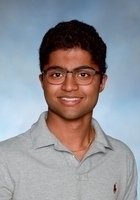 Akul
Certified Tutor
I am currently a student at Syracuse University studying finance and accounting. For the past few years, I have been a teacher at a school, and I love working with children! I have also tutored math for 6 years. In my free time, I enjoy reading, playing football, and trying new things!
Education & Certification
Undergraduate Degree: Syracuse University - Bachelor of Science, Accounting and Finance
Test Scores
SAT Math: 790
Hobbies
I currently enjoy reading business and economics magazines to keep up with up-to-date information. In my free time, I enjoy meeting up with my friends. I also enjoy meeting new people which is why I stay involved in Syracuse's clubs and organizations such as the investment club.