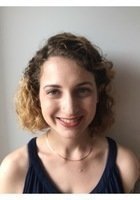 Aviva
Certified Tutor
I graduated from Brown University with a Bachelor of Arts in Fine Art. While I was in school, I studied creative writing and art history extensively and participated in the theater and opera programs. I have experience as an assistant middle school art teacher and an assistant kindergarten teacher. As a freelance makeup artist and face painter, I've truly enjoyed interacting with children at photo shoots and events. I jump at the opportunity to volunteer my makeup skills at charitable events led by such organizations as The Door NYC and Project Streetwork. I'm excited about learning and educating, and I focus on tutoring literary and creative subjects, including art and theater, and am available to help with the Critical Reading and Writing sections of Standardized Tests. I find kids to be inspiring and I hope to reciprocate.
Education & Certification
Undergraduate Degree: Brown University - Bachelor in Arts, Arts, General
Test Scores
SAT Composite (1600 scale): 1490
SAT Verbal: 740
SAT Writing: 800
SAT Mathematics Level 2: 600
SAT Subject Test in French: 700
SAT Subject Test in U.S. History: 740
SAT Subject Test in Chemistry: 670
SAT Subject Test in Mathematics Level 1: 660
SAT Subject Test in Biology E/M: 670
Hobbies
I love to read and write. I keep a journal. I have had an art studio practice on and off for many years, and keep a sketchbook. I make jewelry and am a huge crafter. I love to cook and bake.
Tutoring Subjects
College English
Elementary School
Elementary School Reading
Elementary School Writing
Fine Arts
High School English
High School Writing
Middle School Reading
Middle School Reading Comprehension
Middle School Writing
Other