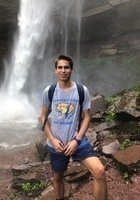 Jordan
Certified Tutor
I am currently a student at the Georgia Institute of Technology studying Chemical and Bimolecular Engineering. I have recently taken AP tests, the SAT, the ACT, and SAT subject tests. These topics that I currently tutor in are academic areas that are a part of my everyday life, and I continue to develop a deeper understanding of the topics while in school.
I know what it is like to be a student learning these topics for the first time, and facing these intimidating tests. I understand both the content and the best methods of approach.
I enjoy helping students overcome their academic barriers and reach their full potential.
Test Scores
ACT Composite: 34
ACT English: 34
ACT Math: 33
ACT Reading: 31
ACT Science: 36
SAT Composite (1600 scale): 1540
SAT Math: 780
SAT Writing: 760
Hobbies
Outdoors, backpacking, Ice Hockey