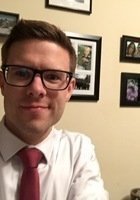 Cory
Certified Tutor
I'm currently a medical student, with a PhD in biochemistry/immunology/chemical biology. I'm interested in biology, biochemistry, and the development of new drugs for disease, particularly blood cancers. I have years of academic and research experience in genetics, biochemistry, molecular biology, and organic chemistry.
Education & Certification
Undergraduate Degree: Tufts University - Bachelor of Science, Biochemistry
Graduate Degree: The Scripps Research Institute - Doctor of Philosophy, Biochemistry
Hobbies
Music, playing guitar, going to concerts, soccer, running.