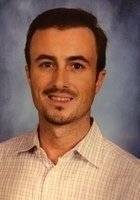 Lane
Certified Tutor
Having French ancestry, I became interested in the French language and culture growing up in my native Biloxi, which is about an hour from New Orleans. I earned my degree in French from the University of Southern Mississippi after having studied also at the Université d'Orléans. After graduation, I returned to France where I taught English in the French public school system. Upon returning to U.S., I have taught French in Florida for over 7 years. I have taught beginners to advanced/native speakers. I also teach AP French Language and Culture. Last year, all of my students scored a 3 or higher on the exam. I also enjoy meeting other French-speakers in my area, I am an avid cook, and I love spending time outdoors.
Test Scores
ACT Composite: 29
ACT English: 30
ACT Math: 28
ACT Reading: 31
ACT Science: 25
GRE Quantitative: 160
GRE Verbal: 149
Hobbies
travel, cooking, being outdoors, kayaking
What is your teaching philosophy?
I believe in teaching my classes in a way that encourages communication over grammar. I prefer promoting oral and written communication over strict adherence to grammatical rules. However, I am well versed in French grammar, and I will be able to help tutor on virtually any grammatical topic.
What might you do in a typical first session with a student?
In the first session, I want to make sure that it is clear what the student hopes to accomplish with the tutor, either for the single session or for a longer engagement. Also, I would like to get a feel for what type of course the student is taking and what is expected in the course. Then, I would like to focus on a feasible accomplishment to complete for the first tutoring session.
How can you help a student become an independent learner?
I would show the student how I would go about doing work in French using a variety of materials. I would make sure the student is aware of the tools that are available to him or her.