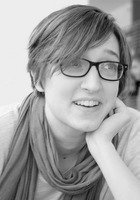 Catherine
Certified Tutor
As a professional journalist, it's my job to be curious. Asking questions and finding the answers allow me to tell great stories and (hopefully) increase the level of knowledge among the public. As a recent student myself, I understand how the pressures of school can sometimes work against your innate curiosity. As a tutor, my goal is of course to help you maximize your success in school and standardized tests. But it's also (again, hopefully) to make room for curiosity, and to remind students, at least a little bit, about what can be fun about learning new things.
Education & Certification
Undergraduate Degree: University of Tulsa - Bachelors, Economic, English, Math minor
Graduate Degree: CUNY Graduate School of Journalism - Masters, Health and science journalism
Test Scores
ACT Composite: 33
ACT English: 35
ACT Math: 33
ACT Reading: 33
ACT Science: 32
SAT Composite (1600 scale): 1510
SAT Verbal: 790
SAT Writing: 720
GRE Verbal: 169
Hobbies
novel reading, news reading, making video, exploring New York City
Tutoring Subjects
Business
College Economics
College English
Elementary School Math
High School Business
High School Economics
High School English
Macroeconomics
Quantitative Reasoning
What is your teaching philosophy?
Every student can learn a concept - it's up to me to find the best way to communicate and teach it, so that you can learn and use it.
What might you do in a typical first session with a student?
First ask what you're struggling with, what you'd like help with and where you'd like to get to by working with me. I'd also find out what you're interested in and excites you. Hopefully we can find a way to blend your challenges with what you like to do.
How can you help a student become an independent learner?
By not feeding answers or methods, and by constantly trying new ways to make a topic become clear to a student.
How would you help a student stay motivated?
By talking with them about their goals, and when they get discouraged, reminding them that all those things they're working toward are completely in their power to reach, even if they may seem far away right now.
If a student has difficulty learning a skill or concept, what would you do?
Seek help from a variety of resources. There's no one way to learn a concept, so I would spend time trying out different ways of explaining something, till one resonates with the student.
How do you help students who are struggling with reading comprehension?
Emphasizing starting slowly, and using context clues. It's so easy to miss important details when you read quickly under pressure. I'd start out with having them practice reading slowly and carefully, and working up to be able to read at standardized-test speed.
What strategies have you found to be most successful when you start to work with a student?
Having them explain to me their current method of tackling a problem. That way I can immediately see what's not working and come up with an alternative.
How would you help a student get excited/engaged with a subject that they are struggling in?
Step back from the work for a moment and see if we can have a conversation about the subject. Is there anything they like about what they've done in the class so far? Is there something they expected in the class that they're not getting, that we could apply?
What techniques would you use to be sure that a student understands the material?
One I use for quantitative problems is, after we've gone over the technique, tackling a problem separately and comparing our answers. If they diverge, we talk about how we each came to the solution. Then we both see how either of us went wrong.
How do you evaluate a student's needs?
Have them send me the problems they're having the most trouble with, have them explain to me their current strategy for tackling a subject and what they think they're problem is. Have them talk through how they would solve a sample problem.
What types of materials do you typically use during a tutoring session?
Often, universities publish teaching tools on various topics online. I do a search of ".edu" urls for certain specific subjects, which yields a variety of tutorials. I go through several and choose the best ones to send the student. We then talk about what those materials add to what they've already received from professors.