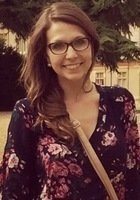 Calie
Certified Tutor
In his book Democracy and Education, philosopher John Dewey acknowledges that "since growth is the characteristic of life education is all one with growing; it has no end beyond itself. The criterion of the value of school education is the extent in which it creates a desire for continued growth and supplies means for making the desire effective in fact" (62). These words begin to define why I have chosen to devote my life to this cause. Much of our culture supports the idea that education is merely a means to an end. Many of us trudge through our years in the university with the singular goal of becoming a doctor, lawyer, accountant, or scientist, and think once we achieve this title, our education is over. Yet we couldn't be more wrong. Education is the key to the survival of democracy and the development of the self. As educational leaders John Dewey and Paulo Freire believe healthy democracy requires educated citizens capable of thinking critically and communicating their ideas both clearly and respectfully. As an educator, I believe it is my purpose to equip students to participate in democracy and see themselves as global citizens with a responsibility to their fellow human beings. In this manner, I base much of my approach to education in the theories of critical and expressive pedagogy, believing in the importance of developing the individual voice of the student in the context of the world around them.

Education & Certification
Undergraduate Degree: Georgetown College - Bachelors, English and Psychology with a minor in Religion
Graduate Degree: Belmont University - Masters, English Literature
Hobbies
I am an avid reader who loves to travel, attend live music events, and learn new languages.
What might you do in a typical first session with a student?
I'd like to get to know the student and also allow them to know me a bit. I would likely administer a preliminary test to understand where they are academically and identify any apparent problem areas.
How would you help a student stay motivated?
I have found that setting attainable goals encourages students to continue learning. Working together, we would create a system of rewards they earn at each milestone. I believe my attitude, encouragement, and passion for the subject will also promote motivation in the student.
If a student has difficulty learning a skill or concept, what would you do?
First and foremost, I would reconfigure my approach. For instance, if a student is a more visual learner, but we have been merely reading and attempting to analyze Shakespeare, I might have them watch and assess a physical performance of a play. I would also utilize various outside sources so the student is not forced to merely hear me drone on and on about a concept.