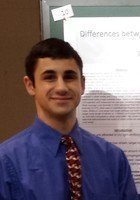 Zachary
Certified Tutor
I graduated from Framingham State University where I obtained a degree in Biology with a concentration in wildlife and environmental biology. Upon graduation from Framingham State, I accepted an internship at Fermilab Natural Areas where I learned about habitat restoration. It was while I was at Fermilab when I realized that I wanted to become a professor. I am most knowledgeable in: Ecology, Biology, Public Speaking, U.S. History, and Life Sciences.

I am a very enthusiastic person and I strive to help others succeed. My teaching style is very flexible, but personally I like to use visuals when I teach. I believe that the best way for a student to learn a new subject is by reteaching the material, as it builds confidence.

In my spare time I like to watch football, go for walks, and play Scrabble.
Education & Certification
Undergraduate Degree: Framingham State University - Bachelors, Biology with concentration in Wildlife and Environmental Biology
Test Scores
GRE: 309
GRE Quantitative: 159
GRE Verbal: 150
Hobbies
Ecology, Biology, Science, U.S. History, World HIstory, Football, Dogs
Tutoring Subjects
College Biology
College English
College Level American History
College World History
Ecology
Evolution
High School Biology
High School English
High School Level American History
High School World History
Homework Support
Life Sciences
Other
Study Skills
Study Skills and Organization
Summer
Zoology
What is your teaching philosophy?
Easy going, and I try to relate to the interests of students. I love examples! Personally, I am a visual learner and like to write down pathways and make flashcards.
What might you do in a typical first session with a student?
Learn what the student specifically needs help with. Talk about likes and dislikes of the topic that they are looking to get help in. Describe how I believe I can best help them succeed.
How can you help a student become an independent learner?
I will help the student gain the study skills necessary to learn on their own. If possible, I will try to implement a routine to help the student study in a timely basis.
How would you help a student stay motivated?
Take the material one step at a time. Take frequent breaks when needed. Integrate new and unique approaches to the material. Maintain a positive attitude!
If a student has difficulty learning a skill or concept, what would you do?
I would try to break the concept down into smaller components. I would hit the main points first, and then go into more detail. Then I would ask the student questions to make sure they understand the concept.
How do you help students who are struggling with reading comprehension?
I would teach the student how to read critically. I believe that annotating as you read is the best way to remember information from the passage. I would then show the student how to use these skills.
How would you help a student get excited/engaged with a subject that they are struggling in?
I would try to show my passion for the subject and teach it in an upbeat way. I would also use visuals or try to relate the subject to an interest that the student had.
What techniques would you use to be sure that a student understands the material?
I would ask questions as we move along. I would try to have the student teach me back the material. If the student misses some information or is struggling, I would re-teach the concept in a different way.
How do you build a student's confidence in a subject?
I would have the student teach me back the material. I believe that students learn best (as well as gain confidence) when they teach the information to someone else.
What types of materials do you typically use during a tutoring session?
I would use whatever materials the student is most comfortable with!
How do you evaluate a student's needs?
I ask the student questions to see what needs to be worked on and what the student is confident with.
What strategies have you found to be most successful when you start to work with a student?
Ask the student what they know about the topic in question. That way, I can get a sense of exactly what we should focus on.
How do you adapt your tutoring to the student's needs?
I am very adaptable. Each person has their own learning style. I will do my best to teach in a way that will allow the student to learn. I will focus on the areas the student feels weakest, and then work on their strongest areas.