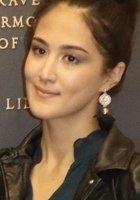 Maisara
Certified Tutor
I am a recent graduate with a Master's Degree in Biomedical Sciences. I have always been passionate about teaching students across all ages and grades. I love sharing my knowledge with others and I understand that each student has unique way of learning, so I am flexible to teach in various methods to make learning fun and individualized. I am looking forward to offer you great tutoring experiences that is worth your time. I have earned Master's Degree in Biomedical Sciences and majored in Biology during undergraduate years with outstanding GPA.

If you are looking for a tutor who will make individualized and efficient sessions, please contact me anytime. Thank you and let's make learning a hobby.
Education & Certification
Undergraduate Degree: George Mason University - Bachelor of Science, Biology, General
Graduate Degree: Geisinger Commonwealth School of Medicine - Master of Science, Biomedical Sciences
Hobbies
Outside tutoring and studying, I love hiking, drawing, cooking and playing guitar. During my breaks or weekends, I love grabbing coffee or brunch with my friends. Currently, I am interested in learning how to knit.
Tutoring Subjects
Adult ESL/ELL
Cell Biology
College Biology
Elementary School
Elementary School English
Elementary School Math
Elementary School Reading
Elementary School Science
GED Science
High School Biology
High School Chemistry
IB Biology
Other