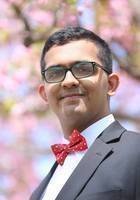 Ajeeth
Certified Tutor
My goal is to help student achieve their goal of understanding a subject to its fullest. I want to make sure that students not only understand their subject of need, but also gain comfort with it to the point of being able to move through problems quickly and with ease. I want to help them gain confidence in the subjects where they lack it the most.

I recently graduated from High School and am currently on track to get my Mechanical Engineering degree from UConn. As my major implies, I love mathematics and science, as those have always been my strong points, and thus, I love to teach other people in these subjects. I am also particularly skilled when it comes to the SAT, and I like sharing the tips and tricks I have learned through my examinations of the SAT.

Outside of tutoring, I love watching my Red Sox, Celtics, and Patriots. I am a Bostonian, through and through. Also, I'm an avid gamer. I am putting together a collection of games that I've always wanted, and I'm nearly halfway done, with games ranging from the N64 all the way to the PS4. My favorite games currently are Breath of the Wild, Metroid Prime, and The Wind Waker.
Education & Certification
Undergraduate Degree: University of Connecticut - Current Undergrad Student, Mechanical Engineering
Hobbies
I am an avid gamer and sports fan! If you ask me a question about Metroid or the MLB, chances are, I can give you an answer. I am a Bostonian to my core, and love the city with all my heart. I am a musician, and am deeply interested in music theory.