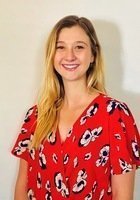 Anna
Certified Tutor
I graduated from Butler University in May 2019 with a Marketing degree. I had the amazing opportunity to study abroad in Europe, which opened my eyes to traveling and experiencing new cultures. Upon graduation, I decided to follow my dream and move to Thailand to teach English. Over the summer of 2019, I received my TEFL certification and spent time tutoring English to recent immigrants. I have always been very passionate about working with children and my time in Thailand, teaching primary-aged students, only reinforced that. I believe students need to enjoy the subject they are learning to retain information, so I try and make tutoring as fun as I can while always putting the student's education first.
Education & Certification
Undergraduate Degree: Butler University - Bachelor of Science, Marketing
Hobbies
I grew up playing volleyball and I love any and every sport. Traveling is my true love, so I find myself constantly planning for my next adventure. I recently started practicing yoga and enjoy learning about meditation.