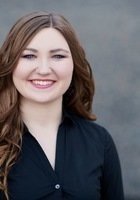 Elizabeth
Certified Tutor
I received my mechanical engineering degree from Southern Illinois University Edwardsville. During my time in college, I was a mentor to freshmen engineering students. I assisted them with their math and science homework, showed them successful study habits, and helped them become involved in organizations and research in the engineering school.

I was also very involved in Society of Women Engineers (SWE) and was a part of Introduce a Girl to Engineering Day, an day-long event to teach 5th-8th grade girls about engineering and engage them in exciting activities. I am now a professional SWE member and continue to be involved in SWE community outreach.

In my free time, I love to go hiking and take walks with my dog. Since I was young, I have been a dancer, continued throughout college, and still dance for fun. I am also an avid traveler.

I tutor math from middle school all the way to Calculus I. As an engineer, I completed many math classes and still use much of what I learned in my career every day. I have always loved math and want to help other students learn to love it as well.

I also tutor essay writing and editing. During my time as a researcher at Washington University Medical School, I was an author on several articles published in medical journals and I wrote a large number of essays and technical documents throughout my college career. I love helping students turn their ideas into well thought out and coherent essays.

I am passionate about teaching students tools that will help them understand the concepts in their courses and become confident in their ability to achieve their goals.
Hobbies
Traveling, Hiking, Walking my dog
Tutoring Subjects
Academic Coaching
Elementary School Math
Elementary School Science
Middle School Science
Other
Study Skills
Technical Writing
Technology and Coding