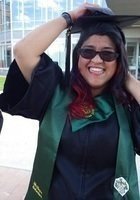 Shelby
Certified Tutor
I am a college graduate from Clarkson University. I graduated with a Bachelors of Science in Biology. While I was at Clarkson I conducted research in conservation biology and animal learning. My primary research was in the population distribution of the endangered golden-winged warbler, a shrubland breeding bird species. My plan is to take a gap before continuing my education in a PhD program.
Education & Certification
Undergraduate Degree: Clarkson University - Bachelors, Biology, General
Hobbies
Lacrosse and cooking.
Tutoring Subjects
Basic Computer Literacy
Elementary School Science
High School Biology
Microsoft Excel
Microsoft Office
Middle School Science
Statics
Technology and Coding
Zoology
What is your teaching philosophy?
Students learn better when they experience the material. Work problems out and see concepts in the real world.