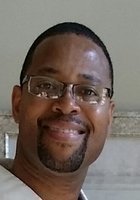 Paul
Certified Tutor
I am a graduate of Siena Heights University, where I acquired my bachelors degree in elementary education. My goal is to exceedingly meet the needs of students using different leaning styles that will intensify their interest and increase achievement thats applicable.
I am a strong believer that any student can learn! With patients and enthusiasm, I have taught elementary and middle school language arts, math, and social studies. I currently teach third grade and coach high school basketball. In my spare time, I enjoy watching sports, walking, reading, going to the movies, and spending time with family.

Education & Certification
Undergraduate Degree: Siena Heights University - Bachelor in Arts, Social Science/Elementary Education
Hobbies
Reading, Arts and Crafts, Sports, Movies, Technology, Traveling
Tutoring Subjects
Elementary School Math
Elementary School Reading
What is your teaching philosophy?
My teaching philosophy is that leaning must be fun and relevant to be retained. Students must know that their future will be enjoyable because they're able to apply what they learned.
What might you do in a typical first session with a student?
On a first session with a student, I would get to know them by finding out their interest/likes, learning weaknesses and strengths, how they learn best, tutoring expectations, and future expectations. I also would have a pre-assessment in the subject area to know what strategies I would need to use to increase achievement.