100% Tutor Satisfaction Guarantee
At Varsity Tutors, we're committed to connecting you to top tutors capable of delivering an outstanding experience. That's why we provide a 100% tutor satisfaction guarantee.
Private In-Home and Online Physics Tutoring in Charlotte, NC
Receive personally tailored Physics lessons from exceptional tutors in a one-on-one setting. We help you connect with in-home and online tutoring that offers flexible scheduling and your choice of locations.
How can Physics tutoring help you?
Physics is a pretty important class. It teaches us, basically, how the world works. There are a lot of concepts and details you must learn to understand these things, but even though it may be very difficult, it's some of the most basic knowledge that we may gather about the world around us. If you are having difficulty in your physics course, it's important to do something about it right away. The best thing you could do to try to help you get all you may out of your course is to obtain a private tutor. The Varsity Tutors educational directors may find you an expert physics tutor in Charlotte, NC, to work with you in pursuit of realizing your potential in your class.

Each student in your physics classroom has a different personality, different learning style, and different knowledge they already bring to the table. No matter how good your teacher is, he or she may not possibly focus their teaching on this vast array of needs. A tutor, on the other hand, is your personal instructor, focused on you and only you during your sessions, and able to try to help you in any way. If you have a question, they're there to answer it right as it comes up. If you are struggling with a certain concept, they may slow down and take more time with it, using different teaching methods geared towards your learning style, until you have complete comprehension. Whether you're just looking to pass your physics course or you plan to become a scientist, let Varsity Tutors find you an expert physics tutor in Charlotte who may create personalized study sessions designed to meet your specific goals.
Private 1-on-1 Tutoring by top UNC/Duke Grads. We serve Charlotte and all suburbs.
Session Summaries by Physics Tutors
"For this session, we finished the student's harmonics homework and did a few problems that involved the Doppler effect. When we went over the Doppler effect, I explained how to figure out whether to add or subtract for the numerator and the denominator in the equation rather than just have her try to memorize the different equations for different situations. If she knows how to think about it logically, it won't matter if she has each scenario memorized. After reviewing harmonics for her quiz the next day, we reviewed some geometry for her test the next day. We quickly reviewed the law of sines and the law of cosines as well as how to find the sides of special triangles. She knew how to do all of this but just wanted to review it quickly to make sure that she was doing it right. "
"We reviewed the student's recent test together in preparation for her re-taking it. We re-did each and every problem together. I believe the issue she had is that she got nervous and did not know which kinematics equation to use for each problem. We discussed these equations and practiced using them on each problem. She did seem to know how to use them better after we reviewed them. I think she just needs more practice using the equations, and I asked her to complete some extra problems in her text book that focus on these equations. We will meet again this weekend to practice more and prepare for her to retake the test. "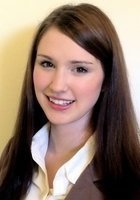 "I helped the student prepare for his mid-term. Topics included: buoyant force, pressure, electric fields, and force between static charges. We did several extremely rigorous problems together. His attitude was very good. His study skills are fine and we still have work to do on the test. He seems to be a very diligent student."