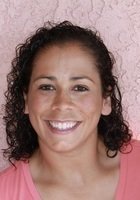 Melissa
Certified Tutor
Growing up I was the kid that would come home from school and then play school with my little sisters teaching them all the amazing things I learned at my school. I love learning and I love the sharing of knowledge. Nothing beats the feeling of seeing a student have that aha moment and helping them learn the tools they will need to succeed.

I am a hard-working teacher with 10 years of experience teaching in science education. I have taught high level Biology, including honors and IB biology, and have taught physiology, and IB sports exercise and health science.

I am extremely passionate about teaching, learning and supporting my learners. I love the challenge of finding new ways to help my students learn and understand. I excel because I love what I do.
Hobbies
ultra-running, crossfit, volleyball, cycling, reading, board games, hiking and playing with my kids
Tutoring Subjects
Anatomy & Physiology
Cell Biology
CSET - California Subject Examinations for Teachers
High School Biology
IB Biology
IB Sports, Exercise and Health Science
Life Sciences
Medicine
Professional Certifications