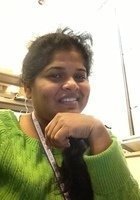 Asha
Certified Tutor
I studied under the tutelage of my parents and understand how important it is to have that personal attention during studies.
I have a PhD in Biochemistry and all along my higher education, I have been teaching students and mentoring them.
Be it teaching biomedical research techniques in a laboratory or classroom tutoring, I find it equally interesting and challenging.
I work in a biomedical research lab and teach Speech and Hearing Sciences, Anatomy and Physiology and Microbiology. I believe tutoring is all about communicating effectively and expressively.
My interests are to build contacts and friendship of all ages.
Education & Certification
Undergraduate Degree: Sophia College - Mumbai India - Bachelor of Science, Microbiology
Graduate Degree: Shivaji University - Kolhapur India - Doctor of Philosophy, Biochemistry
Tutoring Subjects
Cell Biology
College Physics
High School Physics
Middle School Science
Molecular Biology
Neurobiology
Plant Biology