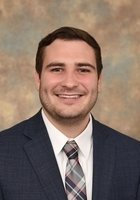 Evan
Certified Tutor
Im a sophomore at the University of Kentucky pursuing a degree in Biochemistry. Because of my interest in both Biology and Chemistry, I tutor in those areas. I have a strong mathematical background and also tutor classes from algebra to pre-calculous. I have taken 4 years of Spanish throughout high school and college and offer tutoring in Spanish 1 and 2.
Test Scores
ACT Composite: 32
ACT English: 30
ACT Math: 31
ACT Reading: 33
ACT Science: 35
AP Biology: 5
AP Chemistry: 5
AP Statistics: 4
AP Psychology: 4
Hobbies
I am very interested in research. When it comes to football I am a Bengals fan. I have been four wheeling for 7 years with my dad and my friends.
What is your teaching philosophy?
To ensure that a student understands material, I would institute various checkpoints throughout the session. After going over a topic I might take a couple minutes to have the student answer a short problem set or quiz. This will show me if they understand the topic at the necessary level or if they still need some review.