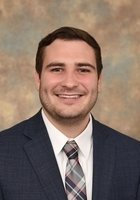 Evan
Certified Tutor
I am currently a 4th year PhD candidate pursuing a degree in Pharmaceutical Sciences at the University of Cincinnati. In 2018 I received my bachelors of science in chemistry with a focus in biochemistry from the University of Kentucky. Science and math are my main areas but I have expletive tutoring for ACT prep as well.
Test Scores
ACT Composite: 32
ACT English: 30
ACT Math: 31
ACT Reading: 33
ACT Science: 35
AP Biology: 5
AP Chemistry: 5
AP Statistics: 4
AP Psychology: 4
Hobbies
As a graduate student I am currently researching traumatic brain injury and potential ways to treat or prevent head injury.
What is your teaching philosophy?
To ensure that a student understands material, I would institute various checkpoints throughout the session. After going over a topic I might take a couple minutes to have the student answer a short problem set or quiz. This will show me if they understand the topic at the necessary level or if they still need some review.