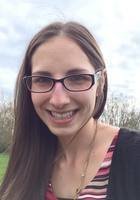 Meagan
Certified Tutor
I graduated from Farmingdale State College in 2015 with a B.S. in Applied Psychology. I also earned my Masters degree in Psychology from Stony Brook University.

I started tutoring on my own approximately seven years ago. I have tutored over 600 hours and I received an abundance of positive feedback from my students and their parents.

I specialize in SAT and ACT preparation for high school student. I am also interested in tutoring college students preparing for the GRE general test. For test preparation, I assign a decent amount of homework each week and I spend the majority of my sessions going over the questions my students answer incorrectly.

While all of my "professional" and "academic" qualities are certainly important, I think it's also necessary for you to understand more about me as a person. I consider myself a "nerd" and I am no longer self-conscious about it - it's who I am. I love school, but aside from that I enjoy reading and writing. To me, the smell of a bookstore is like that of a decadent chocolate cake to many others. Although throughout the school year I typically only engage in academic writing, in my down-time I write poetry and I'm working on a young adult novel. I'm an athlete. When I was younger I did karate for about 6.5 years and got my black belt. Finally, during the winter I take pleasure in crocheting. I make hats, blankets, stuffed animals, and anything else I can come up with.
Test Scores
ACT Composite: 34
ACT English: 34
ACT Math: 35
ACT Reading: 34
ACT Science: 31
SAT Composite (1600 scale): 1500
SAT Math: 770
SAT Verbal: 700
SAT Writing: 700
GRE Quantitative: 167
GRE Verbal: 158
Hobbies
Running, crocheting, reading, and writing.
Tutoring Subjects
AP Research
Business
CLEP Prep
CLEP College Algebra
CLEP College Mathematics
College Application Essays
College English
College Math
Composition
Digital Media
Elementary School
Elementary School Math
Elementary School Science
Elementary School Writing
GED Math
GED Reasoning Through Language Arts
High School English
High School Writing
Marketing
Middle School English
Middle School Reading
Middle School Writing
Music
Other
Social Sciences
Study Skills
Study Skills and Organization
Summer
Technical Writing
Technology and Coding
What is your teaching philosophy?
I believe in breaking down the difficult concepts into small, manageable pieces. I tailor this to each student that I teach so that I can make sure we understand each other.
What might you do in a typical first session with a student?
Before the first session, I like to ask the student/parent what he or she is looking to get out of tutoring. During the session, I work to assess the student's needs. For instance, if we are doing SAT tutoring, I ask the student to complete a section before we meet, and then during the session, I will go over a review of the test. Then we will go over the answers to the questions that the student did on his or her own. That way, I can get a better idea of what level the student is starting at.
How can you help a student become an independent learner?
I like to assign homework each session for my students and ask them to apply the concepts that we went over during our sessions to complete the homework. I also leave it up to the students to let me know which areas they struggled with on the homework, encouraging them to advocate for their needs.
How would you help a student stay motivated?
I like to give me students a lot of positive reinforcement. I point out the mistakes they make, but I make a point to emphasize the things that they do right along the way. I also like to track their progress so that they can see how far they have come as we progress in tutoring.