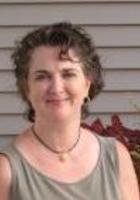 Virginia
Certified Tutor
Before, my math teacher had to give me modified work, and now she doesnt; and on the last test, I got the highest grade in the class. We both beamed with pride and joy when my student, a ninth-grader going to a private academy, told me about her achievement; our achievement. We had been working together for one and a half hours a week throughout the school year.

Your success is my success. There is no greater reward than when a student who was previously struggling, gains the understanding, confidence and knowledge to succeed. Developing a good relationship and setting realistic goals are vital for a successful tutoring experience. With the proper learning strategies and a little hard work, you can achieve your goals. Take small steps, celebrate even the most modest accomplishments, and turn a disadvantage into an advantage.

Learning how to overcome adversity, allows us to prove to ourselves that we can surmount our challenges, achieve our goals, and gain the knowledge and confidence we need to become successful individuals, not just in academia but in life.

Education & Certification
Undergraduate Degree: State University of New York at Purchase - Bachelors, Fine Arts with a Minor in Biology
Hobbies
Ceramics, Skiing, Gardening, Beach, Biking
Tutoring Subjects
College English
Elementary School Math
High School English
Middle School Science
Other
Study Skills
Study Skills and Organization