Koissi: Rio de Janeiro Java tutor
Certified Java Tutor in Rio de Janeiro
...tutoring experience comes from volunteering to help my peers in their math and Computer Science classes. I am an avid programmer with experience across a wide range of technologies and languages, including NodeJS, MySQL, C, C++, and Objective C. Most of my experience in Computer Science comes from personal projects and my own curiosity. Learning...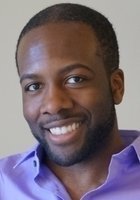 Earnest: Rio de Janeiro Java tutor
Certified Java Tutor in Rio de Janeiro
...learned how to break down problems, analyze each component, and then proceed step-by-step to a solution. This same approach has helped me excel as a tutor because breaking down problems for students and guiding them as they grapple with the concepts involved helps identify sticking points and facilitates a comprehensive understanding of the material at...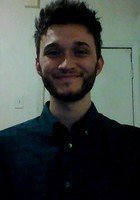 Miguel: Rio de Janeiro Java tutor
Certified Java Tutor in Rio de Janeiro
...emphasize a strategy based approach to studying, and keep an updated list of strategies that my students are finding helpful. I prefer to test mastery of material via a role reversal in which I see if the student can teach me how to correctly solve problems and arrive at the correct answers. In my opinion,...
Kate: Rio de Janeiro Java tutor
Certified Java Tutor in Rio de Janeiro
...and math for 7 years. I also spent 8 months working and studying in France, and have tutored high school and adult students in French. When I'm not working or studying, I love playing volleyball (indoors or on the beach!) and spending time outside, canoeing or hiking with my dog. I look forward to meeting...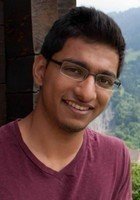 Ajay: Rio de Janeiro Java tutor
Certified Java Tutor in Rio de Janeiro
...ways to overcome them. I also developed more patience and empathy through tutoring - I often remembered feeling the same confusion about a topic that my students were feeling the first time I had learned the material. The skills and perspective I developed through this tutoring experience have certainly made me a better educator.
Anmol: Rio de Janeiro Java tutor
Certified Java Tutor in Rio de Janeiro
...academically and socially, and to be successful in both. I find that my greatest happiness comes in the form of little victories such as a good grade on an exam, or making a friend laugh! Its because of this that I really slow down and try to appreciate every passing moment because I believe every...
Victoria: Rio de Janeiro Java tutor
Certified Java Tutor in Rio de Janeiro
I am currently a Junior at Washington University in St. Louis, studying computer science and math. I hope to one day be a software engineer. I love working with other people and want to help others succeed in my areas of expertise.
Patrick: Rio de Janeiro Java tutor
Certified Java Tutor in Rio de Janeiro
...the University of Texas at Austin. As such, I am very interested in math and science. I know some classes and tests can be a grind, so I want to help others to get through it and do well. I can tutor various subjects, such as Algebra, Geometry, Calculus, Physics, SAT, and PSAT Prep.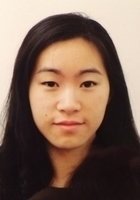 June: Rio de Janeiro Java tutor
Certified Java Tutor in Rio de Janeiro
...learning, and my curiosity has led me through numerous subject areas. I constantly seek to apply my classroom learning in practical situations. For example, I have conducted research on dementia using electrophysiology in a mollusk model. I participate in hackathons and robotics challenges that test not only my programming ability but also my hardware skills...
Private Online Java Tutoring in Rio de Janeiro
Receive personally tailored Java lessons from exceptional tutors in a one-on-one setting. We help you connect with online tutoring that offers flexible scheduling.
Varsity Tutors can help you if you are looking for a Java tutor in Rio de Janeiro. You can work with a mentor to address your needs in ways that fit your goals. Whether you are attending a local institution such as the Federal University of Rio de Janeiro or you are hoping for greater career opportunities, Rio de Janeiro Java tutoring sessions can be a space where your learning needs come first.
Receiving Java tutoring in Rio de Janeiro gives you a great opportunity to learn in personalized ways that can be tough to replicate in other learning environments. Your mentor can help you devise a study plan that can help you move through the material effectively. If you feel that you have a thorough understanding of basic Java skills like commenting, compiling code, or Java packages, you don't have to spend too much time on those topics. In a classroom setting, you might need to spend longer studying these topics than you need to. However, during tutoring sessions, you can move on to advanced topics like abstract classes or socket programming when you are ready for them.
Java tutoring in Rio de Janeiro can move along at the pace you prefer. If you quickly get the hang of object-oriented programming principles such as classes, methods, or encapsulation, you can move on to working on projects in IDEs like Eclipse or BlueJ. In that case, your Java tutor in Rio de Janeiro can move on to studying other topics. However, if using Java for programming operations such as recursion or multithreading is tough for you, there is no need to move on to other topics until you are ready.
During Rio de Janeiro Java tutoring, you can study in ways that work best for you. This sort of personalization can help you learn more thoroughly and internalize what you study. If you are a visual learner, charts, graphs, or flashcards are methods your Rio de Janeiro Java tutor could use to help you study software engineering topics like Big O notation or unit testing. Similarly, if you are more of a hands-on learner, you can pair program with your mentor as a way to deepen your understanding of how to use sorting algorithms like selection sort, heap sort, or merge sort. Being able to adapt your lesson plans to your learning style is a benefit that is hard to get in other learning environments.
You will meet with your Brazil Java tutor via our proprietary Live Learning Platform. Live video chat allows you and your mentor to discuss conditional statements like "if," "if-else," or "switch" as if you were in the same room. You also do not need to worry about commuting to a specific location because you can meet your Rio de Janeiro Java tutor from anywhere with internet access. Your mentor can use tools like a shared code editor to facilitate pair programming. Your sessions are automatically recorded by the platform, which can make reviewing for an upcoming project or test much easier. You can just log on and review previous sessions whenever it is convenient for you.
If you have been searching for a Brazil Java tutor, Varsity Tutors can help you in your search. All mentors that we can set you up with go through a vetting and interview process. You can be confident that you are working with a skilled private educator during Rio de Janeiro Java tutoring. Our educational consultants can be reached over the phone or via the internet. They would be glad to talk with you, address any questions you might have, and guide you through the registration process.
Your Personalized Tutoring Program and Instructor
Identify Needs
Our knowledgeable directors help you choose your tutor with your learning profile and personality in mind.
Customize Learning
Your tutor can customize your lessons and present concepts in engaging easy-to-understand-ways.
Increased Results
You can learn more efficiently and effectively because the teaching style is tailored to you.
Online Convenience
With the flexibility of online tutoring, your tutor can be arranged to meet at a time that suits you.
Top International Cities for Tutoring