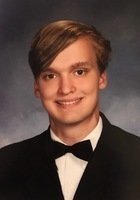 Nicholas
Certified Tutor
I am currently a rising senior studying computer science at Rutgers. I have always had a passion for helping others learn as I know from personal experience how much of an impact good teachers can have on students. I personally like to emphasize practicing above all when teaching as I feel that hands-on work in a subject is the best way to fully understand it. I currently tutor C, Java, Python, and general college computer science.
Test Scores
SAT Composite (1600 scale): 1550
SAT Math: 790
SAT Verbal: 760
Hobbies
Outside of the classroom I love a variety of sports from volleyball to rock climbing. Beyond that I enjoy anything that gets me out of the house and into nature!
Tutoring Subjects
C
Computer Programming
Java
Programming Languages
Technology and Coding