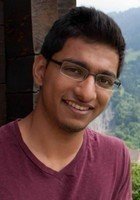 Ajay
Certified Tutor
Throughout high school, I spent my lunch hour tutoring students who were struggling in their classes. Initially, I found this difficult; it was a challenge determining exactly where a student's understanding of a topic was faulty. Over time, however, I developed a keener sense for the hurdles that students sometimes face when learning, as well as the most efficient ways to overcome them. I also developed more patience and empathy through tutoring - I often remembered feeling the same confusion about a topic that my students were feeling the first time I had learned the material. The skills and perspective I developed through this tutoring experience have certainly made me a better educator.
Test Scores
ACT Composite: 34
ACT English: 34
ACT Math: 36
ACT Reading: 35
ACT Science: 31
SAT Composite (1600 scale): 1590
SAT Math: 800
SAT Verbal: 780
SAT Writing: 780
SAT Mathematics Level 2: 760
SAT Subject Test in Biology E/M: 770
SAT Subject Test in Chemistry: 770
Hobbies
Playing piano, photography, hiking, backpacking, being outdoors.
Tutoring Subjects
Algorithms
College Computer Science
College Physics
Computer Programming
Data Structures
Electrical and Computer Engineering
Electrical Engineering
High School Computer Science
High School Physics
Java
Other
Scientific Programming
Software
Software Engineering
Study Skills
Study Skills and Organization
Summer
Technical Writing
Technology and Coding