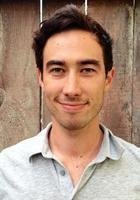 Matthew
Certified Tutor
I have four years of teaching experience in a variety of roles from principal instructor of college math classes to one-on-one mentoring with high school students. I am passionate about social justice, novel mathematics education, and increasing diversity in STEM majors and careers.

Currently, I am working on a thesis in discrete geometry and combinatorics, as well as doing research for UCSF where I design machine vision software. I am well positioned to motivate and justify nearly every aspect of math education as being crucial for a future career in science, engineering or education. I bring this emphasis on real world relevance every time I teach.
Education & Certification
Undergraduate Degree: SFSU - Bachelors, Philosophy/Mathematics
Graduate Degree: SFSU - Masters, Mathematics
Test Scores
GRE Quantitative: 168
GRE Verbal: 168
Hobbies
Dancing, and music
Tutoring Subjects
Computer Programming
Discrete Math
French 1
Java
Probability
Quantitative Reasoning
Technology and Coding
What is your teaching philosophy?
The philosophy that I bring to every class and tutoring session is that it is going to be a period of high intensity training. However I assume that for the student, it is only the beginning of their training, and that for every hour spent in class in a tutoring session with me, at least one hour will be spent in self-study to completely master the topic. Together we lay the groundwork and the pace for that study. Tutoring is not be an extension of lecture, but a training session where I expect a high level of student effort, attention and creativity. My method is to quickly develop a casual but engaging rapport with the student so that we feel comfortable making mistakes in front of each other and are able to collaborate on a learning method rather than drilling problems. The aim is twofold: to help students realize the level of commitment, work, and intellectual awareness required to really master subjects, as well as to instill confidence that they are capable of doing so.
How can you help a student become an independent learner?
Whenever I work with a student, especially when we are working on problems that are new to both of us, I never hide my confusion or process. The primary thing that I strive to teach to students is how be resilient and relentless when tackling math problems. Often times I get stuck in my own mathematical work, and feel the temptation to give up. However I have learned through my own academic and professional career that my success ultimately hinges on my persistence with individual problems. I am clear about this with my students. The most valuable experience that students have through my tutoring sessions is being able to see transparently the entire process of solving a complex problem. When doing so, I push as much agency onto the student as possible. Ideally, a tutoring relationship develops into one of collaboration rather than apprenticeship. What does this mean practically? During the first few sessions I might do mini lectures and solve problems for the student to demonstrate competence and build trust. However once that trust is established, I begin expecting the student to start doing most of the heavy lifting. If we encounter an unknown concept, I ask the student to research it; if we need a visual, the student graphs it using technology; if computations need to be done, the student has to pencil it out. Eventually, the student learns how to take over the entire problem solving and research pipeline.
What types of materials do you typically use during a tutoring session?
For mathematics, I always have a computer available so we can use Desmos.com to graph and Wolfram Alpha to check complex functions. Far from being crutches, these tools are essential for any student of mathematics, and learning how to use them effectively already requires a high level of domain specific competence. Other than that, a pencil and plenty of paper are all you need to work on math.
How would you help a student stay motivated?
During tutoring I use a time management method that I use in my own studies to boost stamina and maintain motivation. We work for 25 min exclusively on a single problem or set of problems, with phones off and all tabs closed except for graphing calculators and research. After that we reset with a 5-minute break for the same reason you need to pace yourself during exercise. This prevents burnout during studying and increases retention and motivation. When students can see concrete, measurable progress, the work becomes suddenly less daunting. On a deeper level however, motivation is powered by long-term goals. Every subject I teach is a passion of mine that has fueled my own purpose driven goals. I use mathematics and computer science daily on impactful projects. I used French to build a life in France. I try and emphasize to my students that every aspect of their learning must be put into the context of their larger goals. This not only creates a more sustainable motivation, but increases the openness of the mind to actually learn new things.
What might you do in a typical first session with a student?
The first session or class with any student is spent primarily getting to know the student as a person: what are their values, their long-term goals, their attitudes towards school. Getting a sense of what a student is expecting out of tutoring and how they approach studying is necessary to design a sustainable approach so that tutoring doesn't become a chore for them. Specifically, this means spending a good amount of time in conversation about anything, to build trust and develop a rapport. I also like to look at past work of the students so that I can assess for myself what their level is. Then I might ask some low-pressure problems to see how they think about the subject we're studying. Some students respond to high energy and fast paced problem sessions, others need a more particular approach to reconstructing their intuition.
If a student has difficulty learning a skill or concept, what would you do?
If it is causing stress, I usually just drop it for the moment and move to something related but easier. We will then work on that until it becomes "easy." Generally once a student establishes some confidence in the subject, they can sort out what kind of effort they need to put into more difficult aspects themselves. My role is to provide the global awareness through the process to allow them to make connections between what they do know and what they can do to what they do not yet know.
How do you evaluate a student's needs?
First, I'll look at graded exams or homework that they have. If I was called in for tutoring because a student is failing a class, some quick emergency measures might be required to just get the student into a place where they don't have to worry about passing. After that, generally working through a difficult problem together gives me a clear picture of how a student thinks and where they need to improve. After teaching hundreds of individual students, I have a pretty good intuition of the different styles of thinking in students.
How do you adapt your tutoring to the student's needs?
It would be unrealistic to think that I would be a good fit with every possible student. That said, through teaching several types of classes and tutoring a diverse set of high school and college students, I have learned that basic sociability goes a long way. The way I teach any particular topic or subject in a one on one tutoring setting is always through conversation and collaboration. So social skills naturally adapt my teaching style to individuals. Particular needs or student such as needing to pay more attention to a particular aspect of a course are addressed by curating an individual set of problems and resources. However if the student needs more guidance with study habits and organizational skills, I will emphasize this during the session. We will model proper study habits and talk about how to effectively organize everything from pens and paper to time and thoughts.
What techniques would you use to be sure that a student understands the material?
This depends of course on the material, but in mathematics it is quite clear whether or not a student has a solid conceptual understanding of a type of problem. As an instructor I have developed a large database of assessment problems to draw from. For a particular problem, I will simply ask the student to present their answer to me as if they were teaching it.
How do you build a student's confidence in a subject?
If a student is feeling some anxiety about a subject, I will find something that they have almost mastered within the material and give them an opportunity to work on something that they already have confidence in. From this we find a route to connect the concepts they are familiar with to the unknown concepts so they will appear much more accessible, and the path less daunting.
How would you help a student get excited/engaged with a subject that they are struggling in?
To affect the motivation and emotions a student has with respect to any subject, I first of all need to be motivated and excited about the subject myself (which I am) and second I need to know what the student IS excited about in life. Then through natural and unforced conversation we can talk about what might be interesting or relevant in the subject. Not every subject will become a passion for the student, so it is important to also instill a sense of general excitement about studies and intellectual integrity that pushes the student to want to succeed in everything they try.
How do you help students who are struggling with reading comprehension?
If the issues is with understanding word problems, then the nine times out of ten the real issue is attention and time spent on the problem. Once we acknowledge that a problem is not necessarily straightforward and may require several logical steps and assumptions, then the student is usually able to parse out the salient information from the word problem. If a student is still struggling, I will model out loud how I analyze a text and draw out explicit and implicit quantitative and logical relationships. This gives them a framework for approaching other problems when the practice in the future.