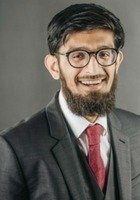 Hammad
Certified Tutor
I graduated from the University of Florida with Bachelor's degrees in Biomedical Engineering and Biochemistry. My overarching drive in academics has always been to consistently challenge myself in my studies whilst also serving as a mentor to others.
Education & Certification
Undergraduate Degree: University of Florida - Current Undergrad, Biomedical Engineering
Test Scores
SAT Composite (1600 scale): 1500
SAT Math: 760
SAT Verbal: 710
SAT Writing: 700
Hobbies
Running, Reading, Listening to podcasts, Coffee,
What is your teaching philosophy?
Everyone has the capacity to gain mastery over a subject. I just have to continue finding the right way to convey it.
What might you do in a typical first session with a student?
Asking questions and gauging the student's ability by the answers that they give. Then, as a tutor, I go from that baseline and work upwards.
How can you help a student become an independent learner?
By not providing answers without the student being adequately engaged in the subject. I also intend to ask similar questions to ensure the students understands the concept well.
How would you help a student stay motivated?
I would help a student stay motivated by providing positive support when they get a right answer, and encouragement when they still cannot quite solve something.
If a student has difficulty learning a skill or concept, what would you do?
I would walk him or her every step of the way. The only difference from other tutors is that I would not get frustrated in the process.
How do you help students who are struggling with reading comprehension?
Reading comprehension is tough, and for someone who has greater ability in mathematics, I can empathize. However, it's something that I personally got through with a bit of practice and encouragement from my own tutors.
What strategies have you found to be most successful when you start to work with a student?
Listen to what the student has to say, and make it more interactive. Even for small questions, you want the student to feel that you aren't inundating them.