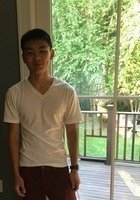 Vincent
Certified Tutor
I am currently a Computer Science major freshmen at MIT. I'm super passionate about math, physics, and computer science and love teaching other people! I think that while math, CS, and physics can certainly be abstract, the practical aspects of such topics can make learning both interesting and fulfilling.

I have had a pretty extensive background in teaching/coaching. I have spent 1 year tutoring and teaching, 3 years as both a soccer and orienteering coach, and 1 semester as a Lab Assistant at MIT. I think the most important aspect of learning is practice and struggle so I generally teach content in a more hands on and practice oriented fashion.
Hobbies
Outside of school, I enjoy watching movies with friends, cooking, jogging, hiking, and in general anything outdoors (I sadly haven't done a couple of these things due to the pandemic).
Tutoring Subjects
CSS
HTML
Java
JavaScript
Machine Learning
Programming Languages
Technology and Coding