Private In-Home and Online Geometry Tutoring in Austin, TX
Receive personally tailored Geometry lessons from exceptional tutors in a one-on-one setting. We help you connect with in-home and online tutoring that offers flexible scheduling and your choice of locations.
100% Tutor Satisfaction Guarantee
At Varsity Tutors, we're committed to connecting you to top tutors capable of delivering an outstanding experience. That's why we provide a 100% tutor satisfaction guarantee.
How can a tutor assist you in conquering Geometry?
Geometry is the math that deals with shapes. That's the simple way to put it. Actually taking geometry may be a little more tricky than that for your child. It's all well and good to be able to name the shapes, but in geometry, your child has to learn how to find the area, volume, perimeter, or circumference of shapes. they need to try to understand congruence and similarity, supplementary angles, the relationships between angles, and medians and centroids. To do this, they use various formulas, such as the Pythagorean Theorem. It's easy to understand that your child might get lost or confused, especially if their class is moving especially quickly. But the good news is they might make the best use of their study time by using an expert geometry tutor in Austin, TX. We at Varsity Tutors are eager to help your child receive that help, by connecting them with the best tutor possible. Our educational directors may take into account information about your child, such as what grade they are in, what specific concepts they are studying, and what they are currently struggling in, as well as their learning and personality styles, and then we may find the tutor who exactly matches your child's needs.

An expert geometry tutor in Austin may help your child work to stay ahead in their class. They may create customized plans that focus specifically on your child's strengths and weaknesses. They may spend extra time with your child when that is what they need, and they may move ahead more quickly than even the class, if your child understands something easily. And when the time comes around to take the STAAR, your child's tutor may prepare them, not only for the geometry content of the exam but also for the exam itself, with test-taking strategies and getting them familiar with the format of the exam. That way, it won't be a surprise to your child when he or she sees it for the first time.
Personalized 1-on-1 home tutoring by top UT grads! 4.9/5.0 Satisfaction Rating*
Session Summaries by Geometry Tutors
"The student and I worked on his new math work today. We started with solid shapes and 3-D drawing. He had absolutely no problems with this topic. We then moved on to the next sections titled "lines, planes, and polyhedra." This section included naming polyhedra from the number of sides in the base and naming the face, vertex, and edges of different polyhedra. With this topic, the student, again, had no issues. Next, we began the lesson on prisms. We worked on naming prisms, defining whether a prism is right or oblique, and defining the different parts of a prism. The student really seemed to have a firm grasp on all three of these sections, and is really showing improvement in his understanding of geometric topics. "
"The student has a geometry test on Monday, over word problems covering area/surface area/lateral area/volume of various 3-D shapes (cones, pyramids, prisms, spheres, cubes). He is a bright student, he just needed help interpreting the questions for him to understand. He knows the formulas well, and he is great with working the numbers/using algebraic methods. With more practice, he can definitely do well. He has a personal goal of bringing his grade up to an A from an 87. With 2 more tests and a final, he can achieve his goal."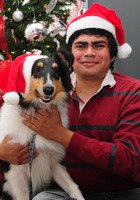 "The student and I covered a lot of topics to help him get caught back up to his Geometry class. We went over function notation, systems of equations, trigonometric functions (sine, cosine, tangent. and their inverses), equations of circles, distance formula, altitudes of triangles, and the geometric mean. He did a great job and seemed to grasp the concepts very well. "