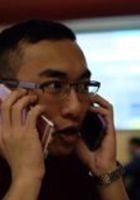 Chiman
Certified Tutor
BS in Physics from Stony Brook University.

Currently completing Masters in Adolescent Physics Eduation at Hunter College.

I hope to open up physics as a path to students that are curious and make the field less intimidating.

I am always looking to improve my teaching techniques in working with the spectrum of educational challenges.
Test Scores
SAT Math: 710
Tutoring Subjects
AP Physics C: Electricity and Magnetism
College Physics
High School Physics