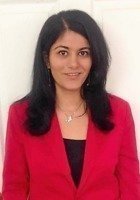 Nikki
Certified Tutor
I love math & chemistry and I enjoy teaching. I cherish the moments when my students get "it" and start finding "it so easy. My teaching style is very simple. I start with determining my students struggle areas. I always work at their pace and ensure that their struggles are resolved. My goal is to teach in a way that the students learn and truly understand the content. I measure my success by my students ability to answer any related questions or problems independently.

I started teaching while pursuing my masters in Pharmaceutical Sciences back in 2012. I was a graduate assistant at Long Island Universitys Higher Education Opportunity Program (HEOP) & Student Support Services for 2 years and tutored math, biology, chemistry, biochemistry, pharmacology, and pharmacotherapeutics to pre-pharmacy students and special needs pharmacy students.

For the past 5 years, I have been working as an R&D formulation chemist for worlds leading cosmetic companies and a part-time tutor. I have recently moved to Seattle and; I am currently pursuing a certificate course in clinical trials at the University of Washington.


Education & Certification
Undergraduate Degree: Sinhgad College of Pharmacy - Bachelor of Science, Organic Chemistry
Graduate Degree: Long Island University-Brooklyn Campus - Master of Science, Pharmaceutical Sciences
Test Scores
PCAT Chemistry: 449
Hobbies
Reading, painting and swimming
Tutoring Subjects
ACCUPLACER Arithmetic
Adult ESL/ELL
Adult Literacy
Analytical Chemistry
Art
Basic Computer Literacy
Biotechnology
Cell Biology
CLEP Prep
CLEP Biology
CLEP Chemistry
CLEP College Algebra
College Math
COMPASS Mathematics
Elementary School Math
GED Science
Graduate Level Biology
Graduate Level Chemistry
IB Biology
Nuclear Chemistry
Other
Painting
PCAT Biology
PCAT Chemistry
Pharmacology
Technology and Coding
Thermochemistry