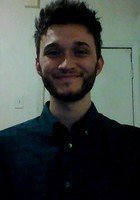 Miguel
Certified Tutor
Hello, my name is Miguel. Thank you for browsing my profile. I hope to inspire confidence in whatever subject matter we approach together, boosting student confidence in academic areas and beyond.

My teaching philosophy is to use extensive questioning to help students forge their own pathway. Naturally, questions from students are encouraged and valued during all of my sessions. I emphasize a strategy based approach to studying, and keep an updated list of strategies that my students are finding helpful. I prefer to test mastery of material via a role reversal in which I see if the student can teach me how to correctly solve problems and arrive at the correct answers. In my opinion, there is no better way to assess the depth and breadth of one's knowledge than to try to convey it to others.

The study habits I hope to pass on to my students are ones that have benefited me throughout my educational career. I graduated salutatorian of my high school and won third place overall in Academic Decathlon state competition my senior year. My academic performance allowed me to attend both Rice University and the University of Texas at Austin, the latter at which I earned a 3.7 GPA, a Bachelor of Science in Computer Science, and a Bachelor of Arts in English.

As for pertinent work experience prior to Varsity Tutoring, I have tutored middle school aged children in English for a year as a part of the PAIR program and helped graduate students from foreign countries practice their conversational English.

Please feel invited to contact me and/or ask me your questions. I am able to travel to most of Philadelphia and its surrounding suburbs, and my schedule is flexible. I look forward to finding times that both of us can work together. Best regards, and may you achieve your educational goals.
Test Scores
ACT Composite: 35
ACT English: 35
ACT Math: 36
ACT Reading: 33
ACT Science: 36
SAT Composite (1600 scale): 1550
SAT Math: 780
SAT Verbal: 750
SAT Writing: 760
Hobbies
table tennis, billiards, snowboarding, cooking, trying exotic foods, watching documentaries, hiking, traveling, listening to and making music
Tutoring Subjects
Algorithms
American Literature
AP Computer Science A
AP Computer Science Principles
AP Physics C: Mechanics
Art History
Basic Computer Literacy
Business
C
C++
College Application Essays
College Economics
College English
College Level American Literature
College Math
College Physics
Composition
Computer Programming
Conversational Spanish
DAT Perceptual Ability
Data Structures
Discrete Math
Ecology
Epidemiology
Fiction Writing
GED Math
GED Reasoning Through Language Arts
GED Science
GED Social Studies
High School Biology
High School Business
High School Computer Science
High School English
High School Level American Literature
High School Physics
High School Writing
IB Computer Science
IB Mathematics: Analysis and Approaches
IB Physics
Java
JavaScript
Linux
Medicine
Microsoft Excel
Microsoft Office
Middle School Reading
Middle School Reading Comprehension
Middle School Writing
Other
PC Basic Computer Skills
PCAT Quantitative Ability
PCAT Verbal Ability
PCAT Writing
Probability
SAT Subject Test in Mathematics Level 1
SAT Subject Test in Mathematics Level 2
SAT Subject Test in Spanish with Listening
SAT Subject Test in World History
SAT Subject Tests Prep
Social Sciences
Social Work
Software
Software Engineering
Spanish 1
Study Skills
Study Skills and Organization
Technology and Coding
World Literature
Zoology
What is your teaching philosophy?
Being able to teach a subject is mastery of that subject.
What might you do in a typical first session with a student?
Ask them about their goals for our tutoring sessions and probe their current knowledge of the subject by having them explain to me what they know so we can identify the gaps.
How can you help a student become an independent learner?
By providing them the tools to diagnose their own challenges in learning new material and to identify the methods that help them learn best. This gives them the confidence that they can figure it out.
How would you help a student get excited/engaged with a subject that they are struggling in?
I often begin a tutoring relationship by asking students what their goal is for our tutorials, asking them to really imagine what it would mean and feel like to achieve that goal. Then we break that goal into smaller parts that are more concretely defined. This way the student can accomplish little goals and measure success in a much more tangible and present way than the anguish of reaching for a far off abstract goal. It helps to make the subject resonate with something in their life, which almost always makes the topic feel important or valuable. Combined, these give students the hope and confidence that so often makes subjects seem more uninteresting than they can come across. Learning is exciting when it is not forced upon you or does not feel like a chore done for no personal reason.
How do you adapt your tutoring to the student's needs?
I always engage my students with lists of strategies I have compiled over my time tutoring and teaching, trying out different ones and genuinely listening to students and their results to see which ones do or do not work. We both adapt to whatever provides the best outcomes for the student, and I am always open to trying new ideas and learning new approaches to better help my students.
What types of materials do you typically use during a tutoring session?
I prefer to use materials most relevant and appropriate for the subject being tutored. I mostly tutor SAT and ACT, in which case I highly recommend using previous official ACT and SAT tests to truly practice with exactly the style of materials the students will encounter. For AP classes, I will refer to materials that most closely reflect the style of those tests, and so on and so forth. My students also seem to appreciate the study guides and review sheets which I personally review and choose for their accuracy and usefulness. Beyond that, the materials I use depend on the individual needs of the student.