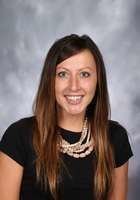 Jessica
Certified Tutor
I'm currently teaching at De La Salle Institute on Chicago's south side. At De La Salle I teach American Literature, AP English IV, and Journalism. I'm also the Yearbook Moderator, ACT Test Prep Writing Instructor, and a member of our One Book, One School committee.

In my free time I'm an avid runner, and I've run the past three Chicago Marathons.

I enjoy Chicago sports and cheer on the Sox, Bulls, Hawks, and Bears.

I rescued a dog three years ago and he has become one of the greatest joys in my life.
Hobbies
I'm an avid runner and have run the past three Chicago Marathons. I am a dog lover and adopted a rescue three years ago. He is the best!
Tutoring Subjects
College English
High School English
What is your teaching philosophy?
Students must be encouraged to grow and develop literacy skills every day. This should be a natural, intuitive part of life. Students must have teachers and tutors who act as ambassadors for lifelong learning and lead by example. Educators should always want to be role models in the classroom, the school, and the community. Students must be able to connect classroom experience with the real world in order to develop the necessary literacy skills needed for higher order thinking. Students must feel the educators promise to foster a learning environment filled with the love of learning and an appreciation for reading literature. Educators must promote healthy lifestyles and active participation as a community member inside the classroom, inside the school, and in society to stimulate brain activity and continuous learning.
What might you do in a typical first session with a student?
The student and I will discuss his or her own goals, strengths and weaknesses. I will perform a diagnostic test with the student, and we will begin working toward the goals together.
How can you help a student become an independent learner?
I will work with the student every session to improve the skill-set, always encouraging through positive reinforcement, and slowly lesson the amount of scaffolding I give until the student has consistently mastered the task on his or her own.
How would you help a student stay motivated?
Positive reinforcement is the only way to get students to keep working hard and to want to keep working hard. Incorporating reading materials or writing materials that interest the students also help keep them engaged in the material.
If a student has difficulty learning a skill or concept, what would you do?
I would continue encouraging the student, building his or her confidence, and working on the skill until the student no longer struggled.
How do you help students who are struggling with reading comprehension?
Keep reading! The more students read the more they know, the more their literacy skills improve and the more confident they feel in their own abilities. It is important to teach annotation strategies to students who struggle with reading comprehension too. I always spend a great deal of time making manageable comprehension goals for my students who struggle with reading comprehension.
What strategies have you found to be most successful when you start to work with a student?
1. Use materials that are topical to the student's own interests. 2. Annotate! 3. Read, read, read. 4. Write, write, write!
How would you help a student get excited/engaged with a subject that they are struggling in?
Choose materials appeal to the students own interests to help master basic skills.
What techniques would you use to be sure that a student understands the material?
I will give the student oral and written comprehension checks via "quizzes" and "tests" with me. I also have various diagnostic tests I can run for the student too.