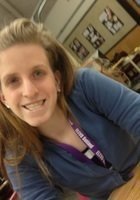 Phoebe
Certified Tutor
I am a graduate of Bates College in Maine. I received my Bachelor of Arts in Religious Studies with a minor in Educational Studies.
In 2015 I received my California Teaching Credential and have been teaching elementary school since.
In the spring of 2018 I received my Masters of Arts in Teaching from Mills College.
Previously, I have worked as a AmeriCorps volunteer in a middle school in East Oakland. During that time I worked extensively with a group of 10 sixth graders to raise their reading, math, and organizational skills.
Currently I teach fourth grade, which I love!
In my experience working with students, I have always enjoyed working on reading skills and creating fun ways to learn math. I am a huge believer in the importance of education and fully believe in the success of all students. In my spare time, I enjoy baking various desserts, quilting, and kayaking around the Bay Area. I, also, love to read and am always happy to curl up with a good book.


Education & Certification
Undergraduate Degree: Bates College - Bachelor in Arts, Religious Studies
Graduate Degree: Mills College - Master of Arts Teaching, Elementary School Teaching
Hobbies
Reading, baking, craft projects, kayaking, and hiking.
Tutoring Subjects
Adult Literacy
College English
Elementary School
Elementary School English
Elementary School Math
Elementary School Reading
Elementary School Science
Elementary School Writing
Elementary Social Studies
High School English
Other
Study Skills
Study Skills and Organization
Summer