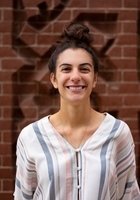 Sophia
Certified Tutor
I am an undergraduate Biological Engineering student at Utah State University. Over the past 5 years, I've gained experience privately tutoring students from 1st-12th grade in subjects ranging from simple math to AP Chemistry. I am capable of tutoring a variety of subjects including basic and complex math, English, biology, and chemistry. I am most passionate about teaching math, I find it rewarding to the confidence of students to grow as they become better at math. My strategy for ensuring my students' success is to provide organization tips, create a safe space to ask questions and be confused, and have the opportunity to practice, practice, practice.
Education & Certification
Undergraduate Degree: Utah State University - Bachelor of Science, Biological/Biosystems Engineering
Hobbies
I love taking my dogs on hikes (although I had to leave her back home with my family when I moved for college). I also love cooking, skiing, and going on spontaneous trips in my free time!